If you want to be a chef and study culinary arts, there might be a few names of specialized institutes that pop up in your head when you think of. Dusit Thani College is one of the popular educational institutes from the legendary reputation of Dusit Thani Hotel, the mother business. And if you've looked into the www.dtc.ac.th website or on Dusit Thani College's Facebook page, the first thing you'll see is a picture of Lewis – Putthiporn Saunders smiling at everyone and welcoming us to know more about the college. Today, we get to know more about him and which attractions Lewis has in addition to a bright smile.  
This Thai–British guy is a sophomore of Culinary Arts and Kitchen Management program coming from  his hometown in Nakhon Si Thammarat to construct his dream and future in Bangkok.  
"My nationality is 100% Thai. You may not believe I'm a Southern boy (LOL). I was born at Samui Hospital in Surat Thani and graduated from Benjamarachutit School Nakhon Si Thammarat. My dad is British and my mom is Thai."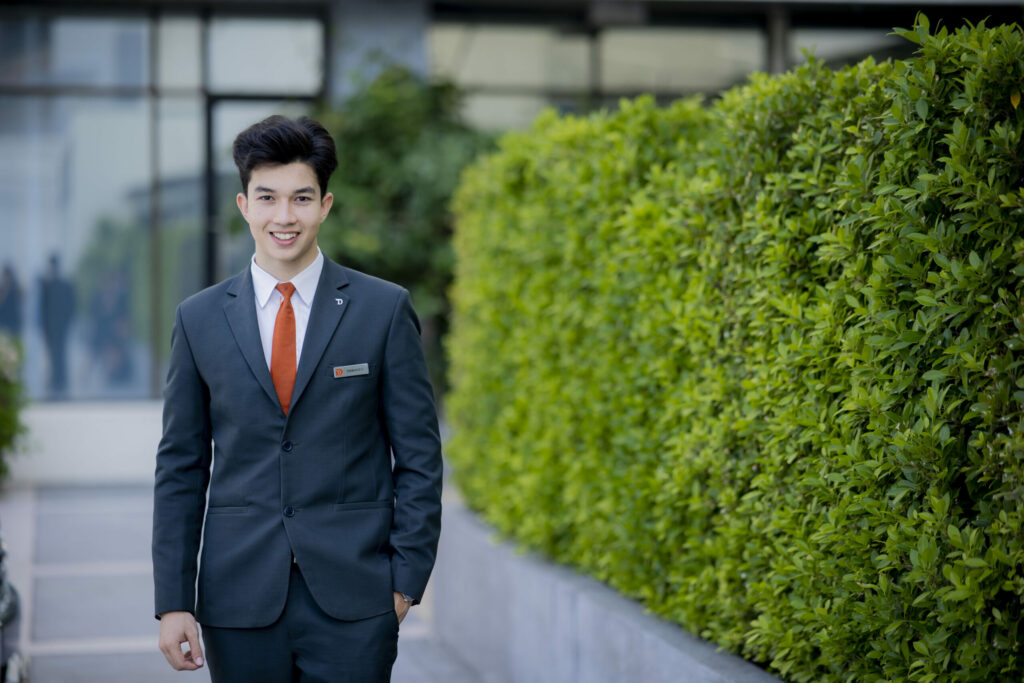 Despite his foreign look and his half British blood, English language is still new to him.  
"To be honest, my language is just recently communicable. My parents broke up and my dad went back to UK, so I grew up with my mother without communicating in English. It was just around these years that my father contacted me, so I could practice conversations in English. Actually, I had a plan to visit him there, but it was put off as Covid-19 struck." 
You may not know that his original dream is not being a chef, but a soccer player. 
"I like soccer since I was a child. I thought if somebody had supported me to this way, I might have not been here (LOL). I like it a lot. However, when I was in high school, there was a guest speaker invited to my school to give advice about future lives. His speech was mainly about choosing a path you love that also gives a good job in the future. So I decided to go for being a chef as I was interested in it and it might also give a good future. At first, I didn't love cooking. I just enjoyed being in the kitchen. I started cooking since I was a child. I saw my mom enjoying cooking, so I wanted to do it by myself. I have worked on my own that I don't feel exhausted in the kitchen now. I'm happy to do so. For some jobs that I'm not happy with, I will suffer burn-out after doing it for a while. For cooking, it is somehow relaxing."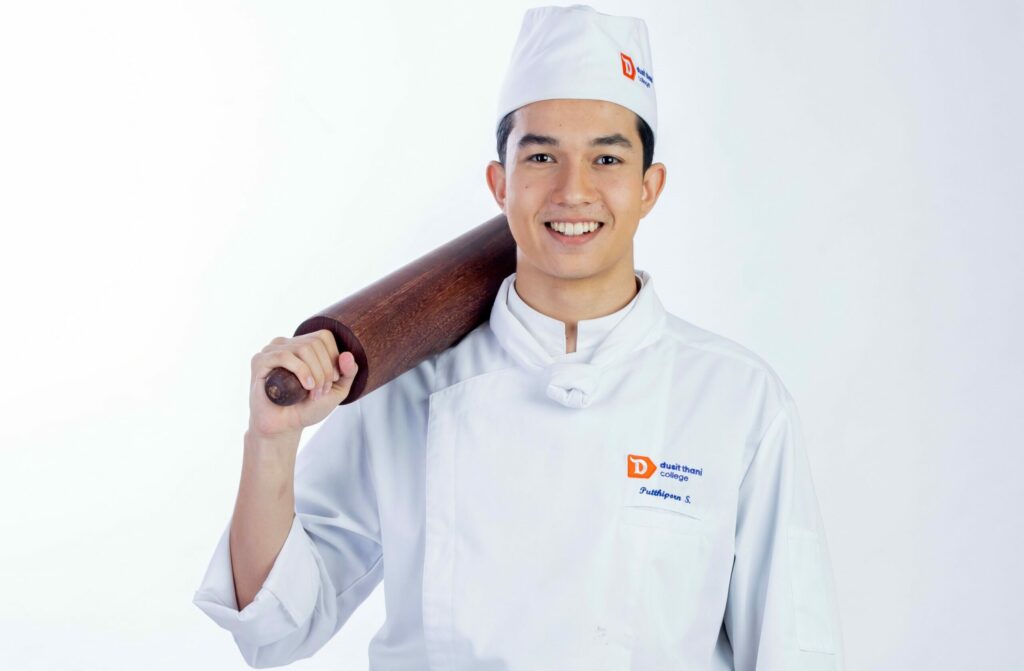 For many young chefs, they are dreaming of reaching the position of executive chef or Michelin Stars. But for Lewis, his dream is quite simple. 
"At first, I was dreaming of being a Michelin Star chef or working abroad. It was until I got into this field. Reaching those dreams is not easy. It takes lots of time. I just want to grow up in this field as I think it is good for me. So I don't expect myself to become someone successful and famous, just someone with a good future. I want to achieve success as much as I could possibly do. Just work hard and accept all opportunities coming into life. If there's none of them coming, I'll find my own opportunities." 
Running towards opportunities could be his real charm. 
"Since I started studying in the college, I had looked for jobs in restaurants. I started working as a waiter, then I had a chance to work in the kitchen. After being connected with many culinary networks, I now have a chance to work as a casual (temporary staff) in many 5-star hotels. I choose to work in these hotels as they give me great experience. I try to select good choices for my life like I choose Dusit Thani College. I am rotated to work in serving and food preparation positions for banquet department. Good points of job rotation are I can understand the reasons of doing things from different perspectives which some of full-time staff might not see before and I can learn the working system. I'm surprised how 10-13 kitchen workers effectively manage food for 300-400 guests, so I learn how they prepare the team and set the system. I couldn't explain within this conversation about the process I have learned."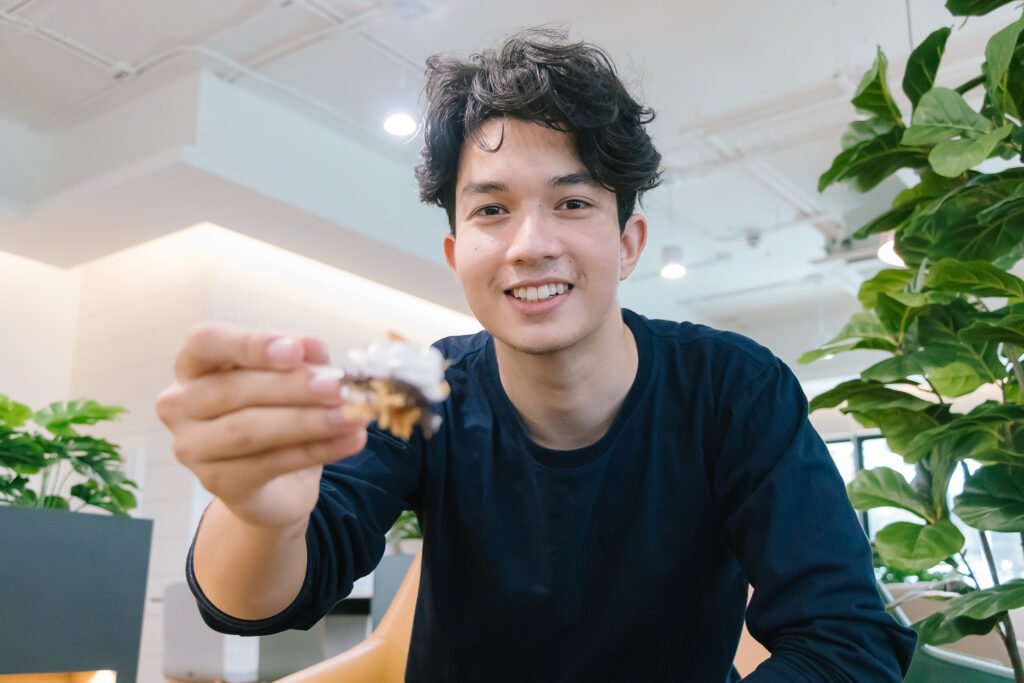 Even his studying and work schedule is full every day, he doesn't forget to find some time for relaxation and self-development. 
"I have 2 types of hobbies; what I really like doing in my free time and what I don't like doing but they make me feel relaxed. I like playing football, playing guitar, and singing. I play and sing whatever I like alone in my room. What I don't like but always do are lying in the bed, scrolling through social media, and binge-watching series on weekends after a long week of work. These are how I refresh myself when I am exhausted. I consider myself an active person, so I can't stay still that long. Two days is enough. (LOL) That helps me regain my energy. One condition is I must stay only in the room. Traveling doesn't help as it still consumes energy. For self-development, I am practicing English language since my communication skills are not that strong though. I try talking with my father more often and gain vocabularies by reading and watching British or American series. Language is necessary for enhancing opportunities and future."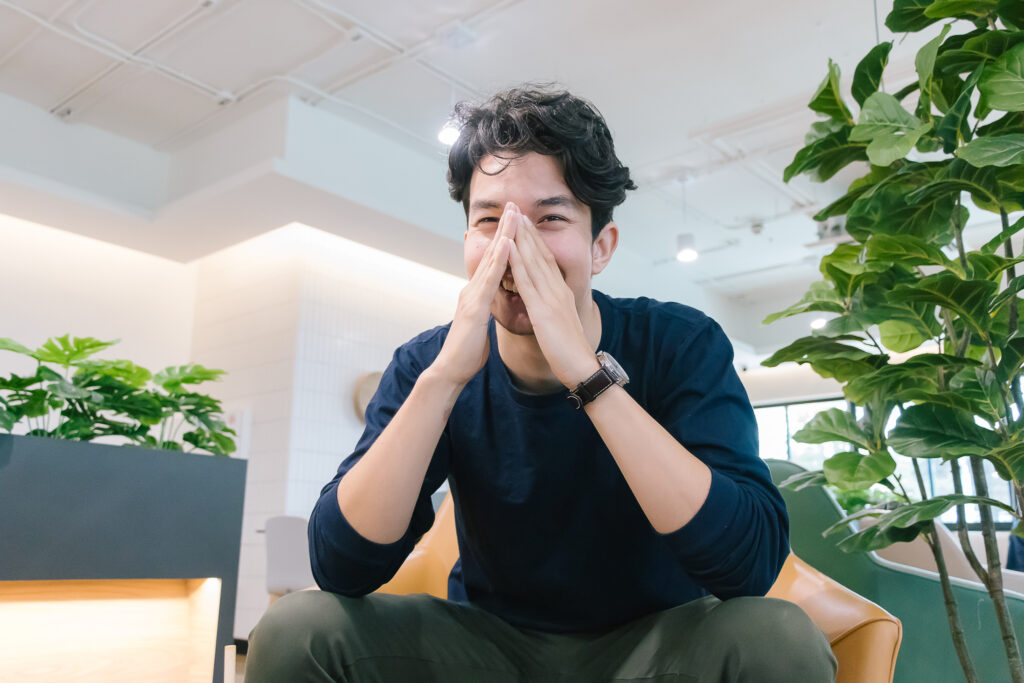 For his romantic side, Lewis likes people with good attitude and high ambition. He also like optimists who love developing themselves. However, we are sorry to say that he is already taken. 
"It's been 4 years now. We have been in relationship since I was at the high school. She is older than me but staying with her makes me grow a lot." 
Before ending, Lewis has left a message to those who are interested in studying at Dusit Thani College or still looking for their own interests. "If you decide to study here, make your life worthwhile. Experience is as important as knowledge, so go all out as much as you can. While in high school, if you have free time, try exploring what you truly like or love."  
From the writer's point of view, Lewis's true charm is his attitude towards life, his friendliness, sincerity, and modesty which are the key personalities of those who will succeed in service industry.