The sweet smile and bright eyes of Jane – Smithanan Thanapiwong shown in the cover photo might seem contrastive to the heavy headline. However, before this young food business owner gains this pretty smile, she had been through many tough challenges, possibly considered the hardest moment ever in her life.
 "When I was 18, my family was defrauded 20 million THB. That's all my family's savings." 
The life of a high school girl stepping toward university admission, with a dream of owning a resort and a chance to study double degree in Switzerland, was turned into a vital role of business owner overnight. 
"There are 3 members in my family; my single mom, I, and my older brother. At the time we knew it, my mom was deeply sad that her most trusted one betrayed her badly. She and my brother were under despair, so I felt that I had to do something. Then, I confidently said I would take care of them myself." 
At the age of 18, Jane hadn't tried any business management before, but she wanted to recover her family. She might not be standing here without her strong confidence. 
"I was so confident in my smartness as I was successful in classes, activities, and other school projects. I trusted if anybody experienced and passed this before, then so did my family. From this confidence, I started doing a business."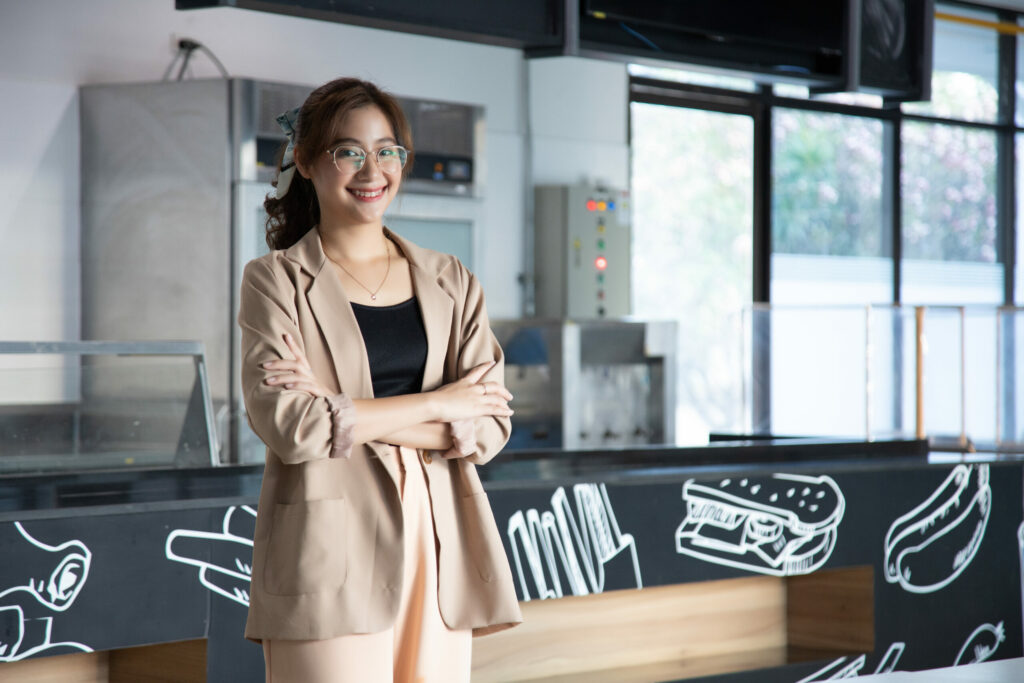 Jane was inspired to start solving family's crisis by family's recipe.  
"My mom got a pork satay recipe from Trang province long before I was born. At that time, we were having a small restaurant. She adapted the recipe and cooked for our family and some customers. This pork satay was so attractive that interested customers bought and resold it in a large amount. However, we didn't sell it seriously as we had little capacity for production, so it became our family's capital. Until one day, after being defrauded, she made this pork satay for us. I then got an idea that we should sell this. I wanted everyone to know how good it was, at least to give a try." 
Every start comes with challenges and obstacles. Jane built the brand "Mae Moo Satay" for her pork satay and sold it in the place no one ever did there before – an online world. 
"Back then, online marketing wasn't this popular. There weren't many shops selling pork satay online with free delivery on Facebook. I thought we must be successful as we were the pioneer. I was positive in my product and myself that I could do it. The first days I started advertising on Facebook, the result was incredible. We weren't prepared for these huge orders, so mistakes occurred. We couldn't skewer pork on time, had time management concerns whether we could grill and deliver in time, couldn't control the consistency of its quality as the recipe needed adjustment, and received comments from customers. Every time we went for delivery or we got order, there was at least a problem to be solved. Therefore, I, my mom, and my brother had to talk and fix problems together. That's why everything is better now." 
Currently, even her family's financial crisis is relieved, the economic and health crises come up as a next adventure. Even though, Jane never stops breaking through those obstacles. 
"Personally, I think the crises are a chance to develop myself. They require me to be more knowing, adaptive, and endurable. If I can get through this, I will have more immunity in my life."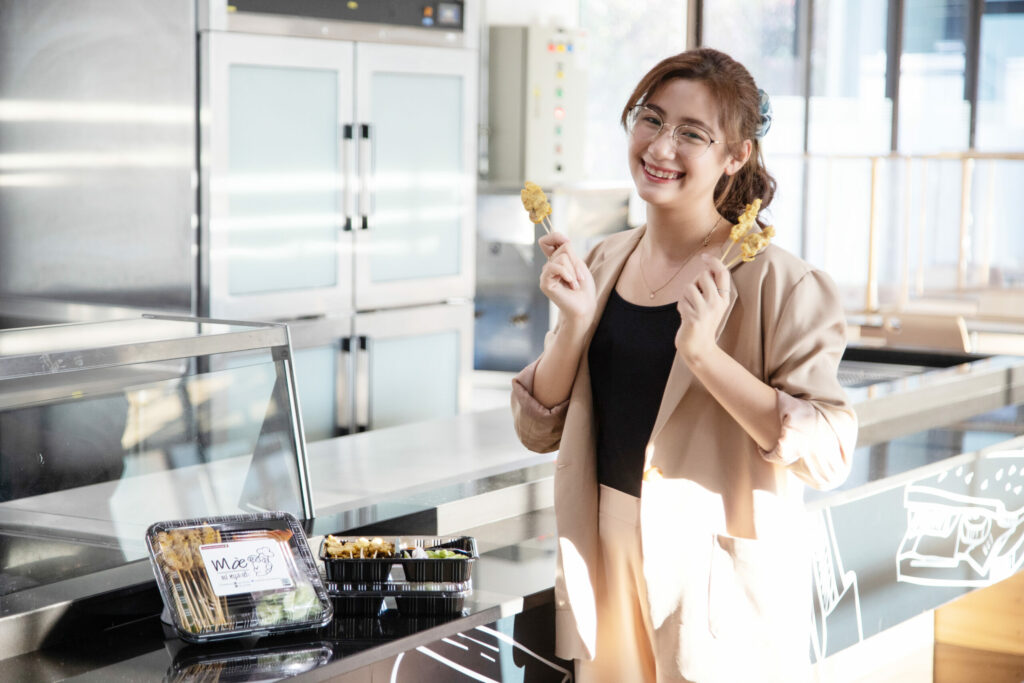 It's been 4 years that Jane's pork satay business has stayed on the top in Samut Prakan. It is well-known for its delicacy and quality, which are the keys factors for customer loyalty and her business principles. 
"We select middle-age pork because it is tenderer than the old and tougher than the young. We deal with the slaughterhouse to get this type of meat. Another selling point is the coconut milk. We use only its cream in every process, from marinating, soaking before grill, to making dip sauce. The coconut cream softens the pork satay and makes better smell. If you leave my pork satay for a long time or freeze before microwaving it, it is still tender. For the cooking process, it is quite complicated. We rub the pork meat before grilling to untighten the muscles and soften it. Our fatty recipe is also distinctive. We don't skewer pork fat after lean meat, but we select the part that contains fat. This part makes chewier and more delectable pork satay, which creates Mae Moo Satay's signature dish. I believe nobody sells this menu due to its high cost, but I choose quality. That's why many customers are addicted to it."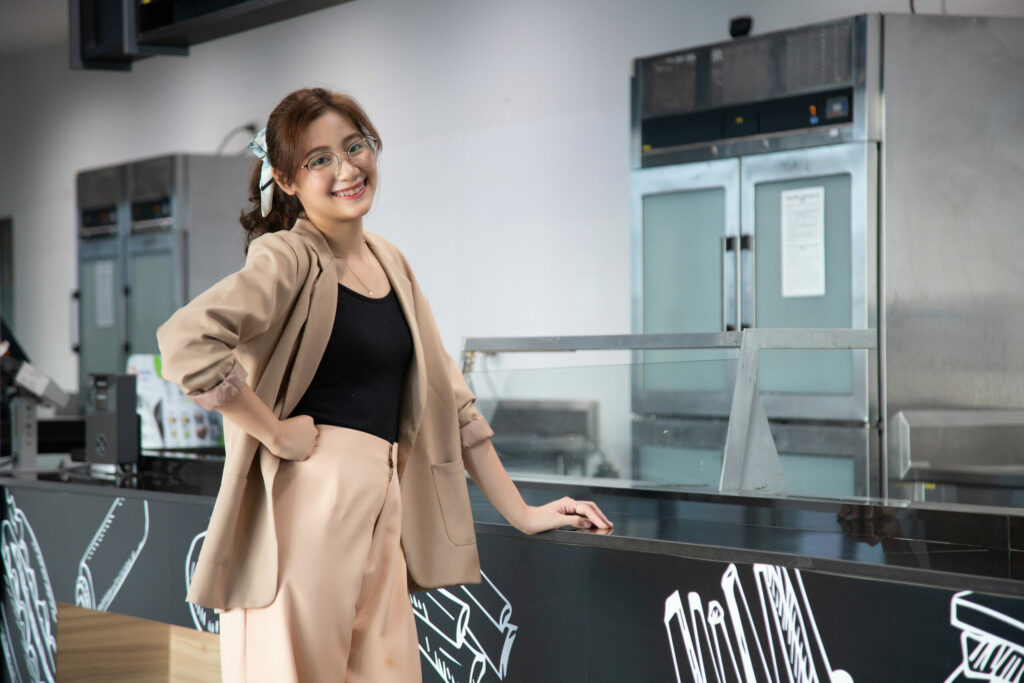 After the pork satay business is able to support her family, Jane has got her time to follow her dream. It is before she discovers a more exciting dream that changes the route of her life again.  
"When I entered the second admission, I asked my family where I should go. My mom raised the name of Dusit Thani College as it is near our house. Additionally, I was good at services and firstly interested in hotels and resorts, so I enrolled in Hotel Management Program. It was after my study that I heard of the college's Tourism Service Innovation Program. It sounded interesting, so I talked to Ajarn Ball (Ajarn Somphob Chatawanich) and Ajarn Nonglek (Ajarn Maneewan Chatawanich), the lecturers of this program. It really amazed me as it was so creative and relevant to my think-a-lot behavior, so I transferred to study in this program. As far as I study in this program, it really supports my business. The knowledge here doesn't represent only current but also future trends of businesses, for example, the trend of food in the next 5 years. We have to see how we will design our business if the trend goes like this in the future, which I never think of when I do my business. There are other courses that allow students to design businesses, products, and other tourism-related ideas which are in line with the future trends. I utilize lots of this knowledge to Mae Moo Satay. Our lecturers cultivate the idea of innovators in us, activating us to create ideas to be adaptive and flexible at all times. This is quite difficult, but I can handle it with my full capacity and learn so much for my business." 
Nobody knows how Jane's life will be in the future. Learning and adaptation with flexibility are what Jane keeps in her mind for her present, future, family, and herself.