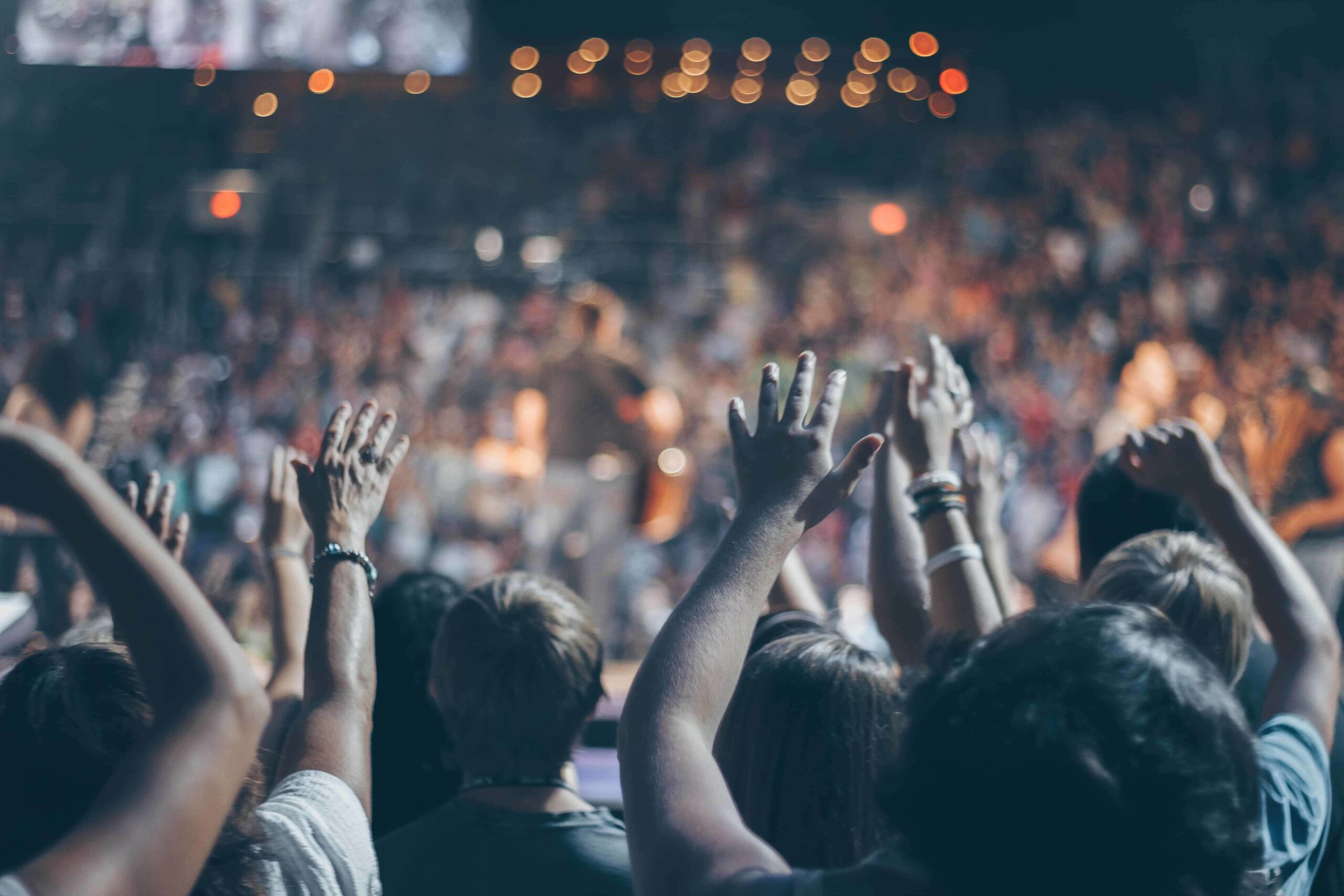 Most people have attended events like parties, weddings, trade shows, conferences, or even concerts. When you go, whether the event was big or small, have you ever stopped and wondered who is behind these events?
Of course, everything has its origin. "MICE business" is a business that creates quality events which give special experiences to all participants. Interestingly, this industry continues to grow and is getting more and more important as time goes on. Therefore, we will take a deep dive into this career and see what makes it tick. We will also discuss the path you must pass before becoming a professional event organizer.
Getting to know "MICE Business"
MICE is an abbreviation form for Meetings, Incentive Travel, Conventions, and Exhibitions (sometimes the C stands for Conferences and the E stands for Events) which has evolved from the tourism business by offering the service as a meeting or trade shows for business professionals.
Let's take a look at each segment of the MICE business in detail:
M = Meeting: creating a gathering or discussion within an organization or between organizations.
I = Incentives: using tourism management as a reward for employees or people who can help the organization to achieve specific goals.
C = Conventions: referring to international meetings that include people in the same profession or similar professions. This is usually a large event at the regional or national level.
E = Exhibitions: organizing a trade show of goods or services. This could be organized either at regional or national levels.
When it comes to the "MICE Industry", many people may not be familiar with it. But did you know that this industry is one of the service businesses that is continuously expanding every year. Since Thailand has always been an interesting tourist destination, with a charming tradition and culture which eases this kind of business activity. The MICE business can generate income for the country of no less than one hundred billion baht per year, both directly and indirectly.
Direct income comes from tourists who attend the meeting or exhibitions in the country. This group of attendees is considered as a potential group and normally spend 3-4 times more than ordinary tourists.
Indirect income comes from investments on various trade shows. In addition, the MICE event also helps to promote other businesses within the country which could create more income down the road.
Furthermore, we can see that many associations which have been established today require more frequent meetings. Moreover, many organizations have organized travel plans and activities to reduce employee's stress or to be provided as a reward for those who can achieve the organization's goals. For these reasons, it is not surprising why the MICE business group has experienced a continuous growth trend.
How to start in a MICE career
Currently, there are still many jobs related to MICE and there are plenty of job positions available to support those opportunities. Occupational groups that are directly connected to MICE include event organizing businesses, tourism, hotels and accommodations, etc. There are also other related categories, such as advertising, public relations, transportation, and more.
In the MICE industry, we will need to encounter new things and meet new people all the time. Anyone who works in this field should be energetic, enthusiastic, and active. So, if you are creative, looking for challenges, and always ready to adapt. Then, a MICE career could be a good match for you.
How do we start down this path? Dusit Thani College is a qualified institution that offers intensive MICE courses both in theory and in practice. Every student will start by learning from the very beginning to make sure that they clearly understand the foundation of a MICE business, which will definitely help them to grow faster along their career pathway in the future.
Let's take a look at the benefits of studying MICE at Dusit Thani.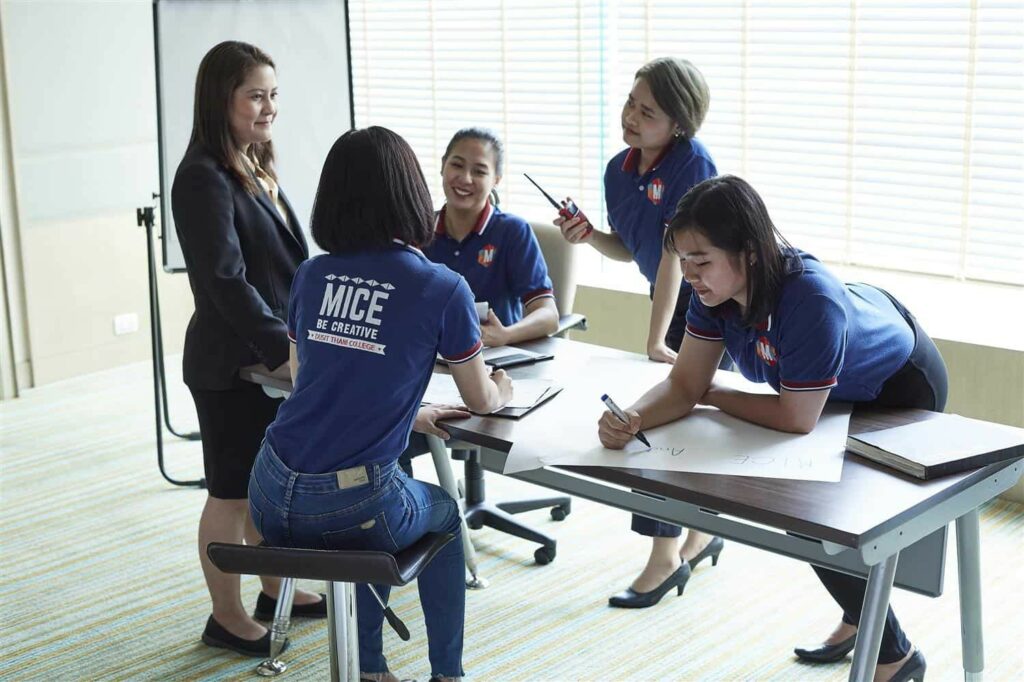 1. Learn all necessary subjects
The course will start from the foundation to the basics of the service industry in MICE. The program includes several subjects such as Morals and Ethics in the Profession, Principles of Communication and Marketing, and Business law. Our curriculum gives students a wide range of knowledge and the overview of the MICE industry as well as applying knowledge to other areas.
2. 1,200 hours of Internship
Students will have field training with relevant departments which allow them to actually work through every step, from liaison with the accommodation, managing facilities, and more. Student internships are divided into two parts, training in offices or hotels for organizing MICE meetings or working in a professional conference building like Bangkok International Trade and Exhibition Center (BITEC), IMPACT Exhibition and Convention Center (IMPACT) or Queen Sirikit National Convention Center (QSNCC).
This is a great opportunity for students to step into the real work experience and be given a chance to practice solving immediate, real-world problems, dealing with pressure, developing skills in working with others, and much more. Whether it is a conference, trade show, tourism activity, we guarantee that you will be able to handle it all and grow from the experience.
3. The foundation to becoming an entrepreneur
Another interesting thing about the program is that we provide you courses on MICE business management such as Risk and Safety Management in MICE industry, Marketing Communication Innovation for MICE, and Human Resource Management and Development in Service Industry. In order to prepare students to become executives or entrepreneurs in the future.
Once a student has completed a MICE course from Dusit Thani College, what can they be?
Tourism business managers in travel agencies, hotels, MICE organizations, the government, and other institutions.
Coordinator and meeting planner or an exhibitions organizer in hotels, convention centers, resorts and other locations, who can progress to becoming a company manager.
Entrepreneurs involved in organizing exhibitions and events.
Much more.
Conclusion:
It is not easy to organize a good event since there are many jobs behind the scenes and each position goes through a lot of problems along the way. So, everyone in the MICE business is important because they all have to work together in order to drive the job to completion. In addition, there is high demand for MICE businesses in this market because of its tendency to grow continuously.
If you are interested in entering on this career path, you will have to get yourself ready to discover new things all the time, release your creativity and encounter new challenges.
Find great opportunities at Dusit Thani College, an institution that connects students with their dream path and provides advice and knowledge along the way to be a professional in the MICE business.