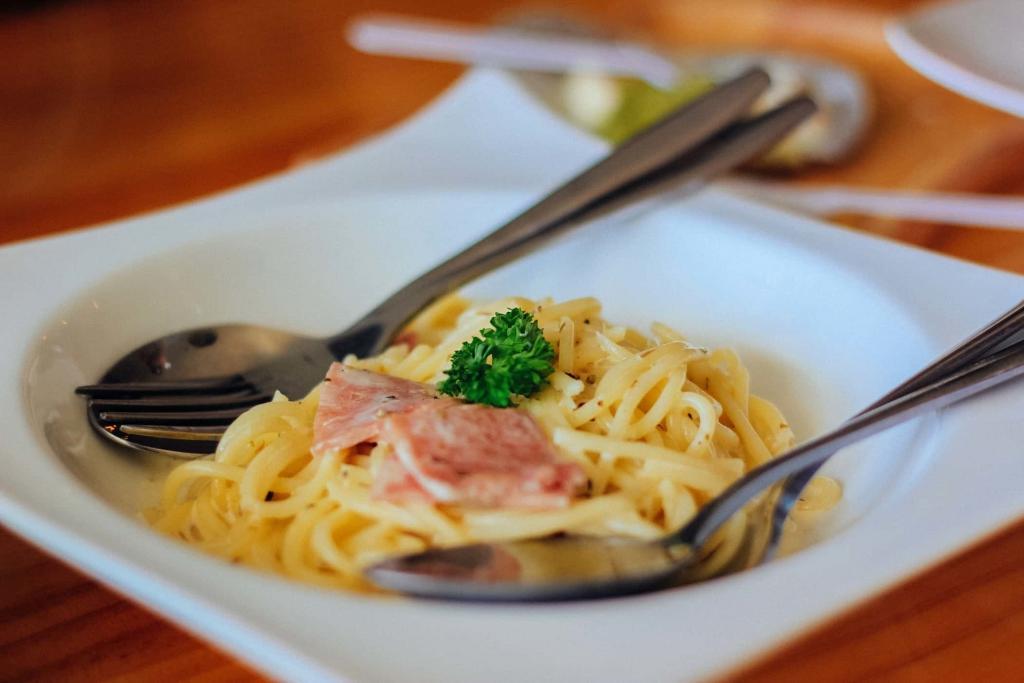 The smokey flavor from this hot pasta together with the creamy aroma of the cream cheese and grilled bacon contrast with the smell of black pepper and parsley. The richness of the pasta combined with the golden brown color creamy sauce creates the characteristics of "Spaghetti Carbonara", an all time favorite Italian dish.
Although Spaghetti Carbonara looks like a simple dish because of uncomplicated ingredients, but many restaurants may disappoint you with it. Either the sauce is not perfectly concentrated, the cream and cheese don't mix well together, or the bacon is not crispy enough. Often, we may find it hard to have an actually good Spaghetti Carbonara.
Today, let's try doing Spaghetti Carbonara on your own with this original recipe from Dusit Thani College that guarantees the intensity and deliciousness from the Institute of Le Cordon Bleu.
How to make spaghetti carbonara by Dusit Thani College
Spaghetti Carbonara is a popular dish with a rich, creamy carbonara sauce that doesn't use many ingredients and the process is not too complicated. Just use the appropriate amount and proportion of ingredients, then follow the recipe, you will get an exquisite Spaghetti Carbonara.
Here are the ingredients below:
| | | |
| --- | --- | --- |
| Qty. | Ingredients | Remarks |
| 60 g | Spaghetti | Al dente |
| 15 ml | Olive oil | |
| 15 g | Onion | Minced |
| 5 g | Garlic | Crushed |
| 30 g | Bacon | Chopped into small pieces |
| 125 ml | Heavy cream | |
| 1 pc | Egg yolk | Sautéing |
| 30 g | Parmesan cheese | Grated |
| To taste | Salt | |
| To taste | Pepper | Crushed |
| 2 g | Italian parsley | |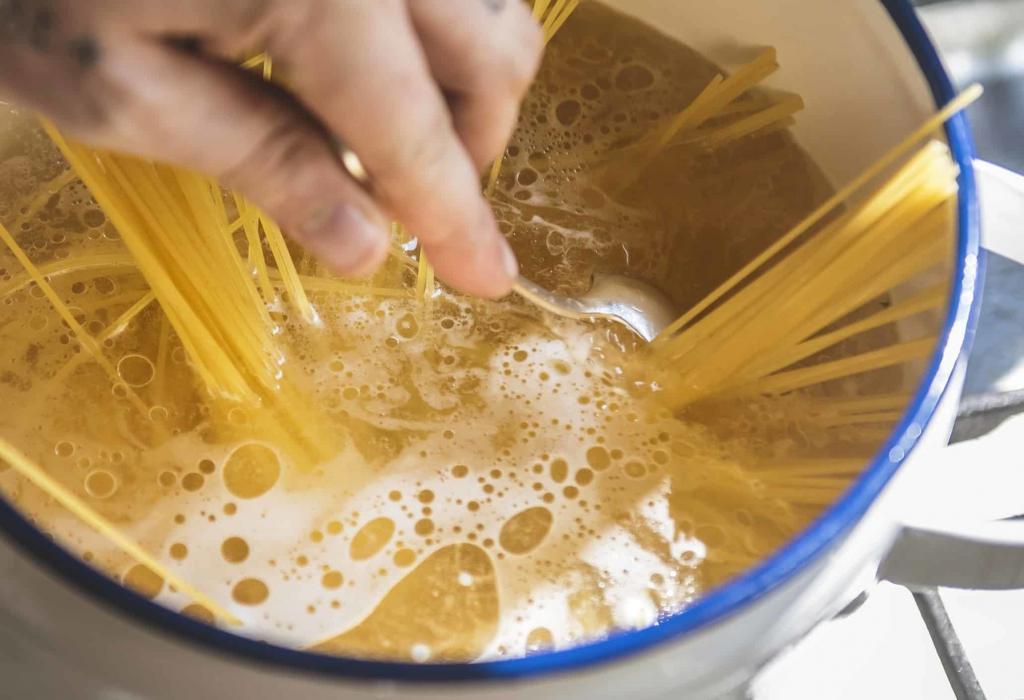 Directions:
Boil 60 g of spaghetti in boiling water with a little salt for 10-12 mins or according to the label to make perfect "al dente" spaghetti, which is still firm to bite. Then, remove from the water.
Mix heavy cream and egg yolks to make an intense Liaison sauce. After that, stir the sauce with the pasta to increase the thickness and texture.
For the sauce we will start by pouring 15 ml of olive oil in a pan at medium heat. Then, stir the finely chopped onion in the oil. Sauté until it's soft, transparent, and aromatic. Then, add crushed garlic and bacon to stir fry until crisp and dry.
Once the bacon has cooled down, add the spaghetti. Pour Liaison sauce slowly into the pan. Then, add 30 grams of Parmesan cheese and stir until the cream and cheese are completely mixed.
Taste cream sauce, add salt to the taste and black pepper for more extreme flavor and aroma.
Serve hot and garnish with parsley.
The secret to Dusit Thani College spaghetti is to stir fry bacon with onions and mashed garlic, allowing us to get the oil from the bacon, which has a unique fragrance. In addition, when we cook Liaison sauce in these oils, it will give even more rich taste and smell really close to original Italian carbonara.
With only a few ingredients and 6 easy steps, you can create a perfect Spaghetti Carbonara, that contains flavorful intensity from the parmesan cheese and pleasing scent of black pepper and the parsley, on your own at home. From now on, you don't have to rely on any restaurant as you can do it yourself.
For those who are interested in cooking, Dusit Thani College is now offering many short courses for you to select the best match for you.