Everyone has their own reasons to pursue their goals; however, every long journey always begins with an inspiration. For Nut – Pavarit Chotisin, a 3rd year student in Hotel Management Program at Dusit Thani College, the inspiration to design his future path was from his part-time job when he was young.
"When I was in third grade of secondary school, I started working at my mom's restaurant and bar. I didn't think about passion much at that time, because I just wanted to make some money. I was too young to stay at the front, so I could only provide a support behind the counter. As I kept working, I had met so many customers which made me realize that I like to provide people services. I loved seeing people happy and smiling, so I told myself that I might be passionate in studying in customer services. Then, I chose to enroll in Hotel Management program at Dusit Thani College because when I attended the open house activity and tried some workshops of Hotel Management program, I just knew that the college itself has provided a bartending subject that I was interested and familiar with. Moreover, the college had good atmosphere which made me feel that this might be what I have been looking for"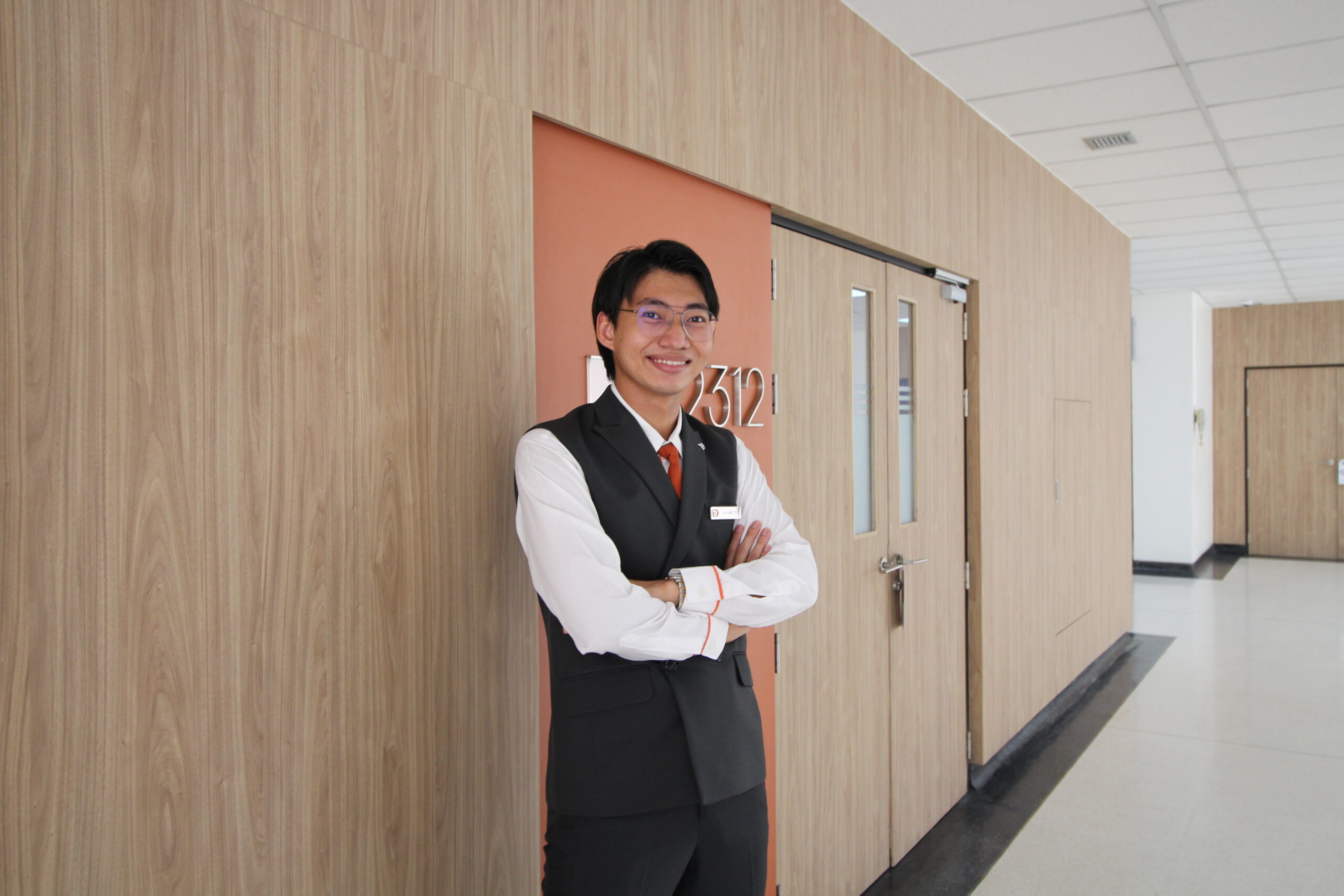 "When I got here, I continued working part-time in bars and pub-style restaurants, so that I could experience the atmosphere as well as obtain useful information from the seniors. As I have been working in many places, what I have been told regularly is that we, the workers, must provide on-point services based on customers' needs. Each customer comes with different background and reasons; however, every single of them all has their personal intentions about why they would like to visit us. Our job is to find out why customers come to our bar and what we can provide and message them. Some people might come with broken hearts which they need someone to listen to them, and some might choose to be here to just party, celebrate, date, or get drunk. It is our duty to figure out those things about customers. When we found it; then, we must think about what drinks we should serve based on customers' feelings. Each drink signifies a different message. Some drinks could amplify their pain, and some could be the remedy for them. Our selections and suggestions mean a lot to customers. It is like delivering a message to them. Those techniques from seniors influenced me to love bartending which I did my best to bartend every single drink to tell someone's story through the drinks and provide them good experience".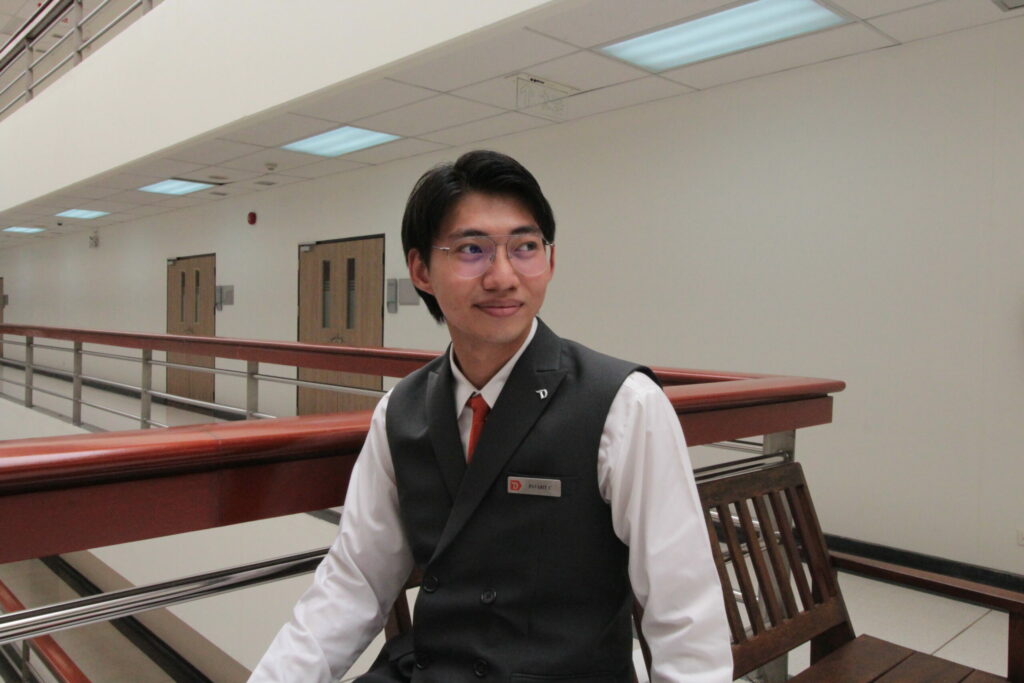 Although Nut felt that bartending was his preference, it was just only the first drink he tasted. Nut began to see himself more clearly when he tasted the second drink, which was to work in the "front office" of the hotel.
"During my second semester of the first year, I had the opportunity to attend WIL (Work-Integrated Learning) at The Okura Prestige Bangkok Hotel. At that time, I was part of the front office, and I felt interested in this position. After that, I decided to find a job related to this position while studying in the semester blocks system. During that time, Dusit Thani College's classes were proceeded in block systems which means each subject will take 3-4 consecutive weeks to finish. Therefore, there would be some months that I was free. During my free period, I decided to apply for a temporary front office position at Pathumwan Princess Hotel. It was like a short-term full-time staff as I was officially interviewed before I started this position. In the beginning, I earned the same salary as someone who hadn't got a bachelor's degree. However, once I proved myself that I could exceed their expectations and used what I had learned from Dusit Thani College, my salary was increased to almost as much as full-time employee".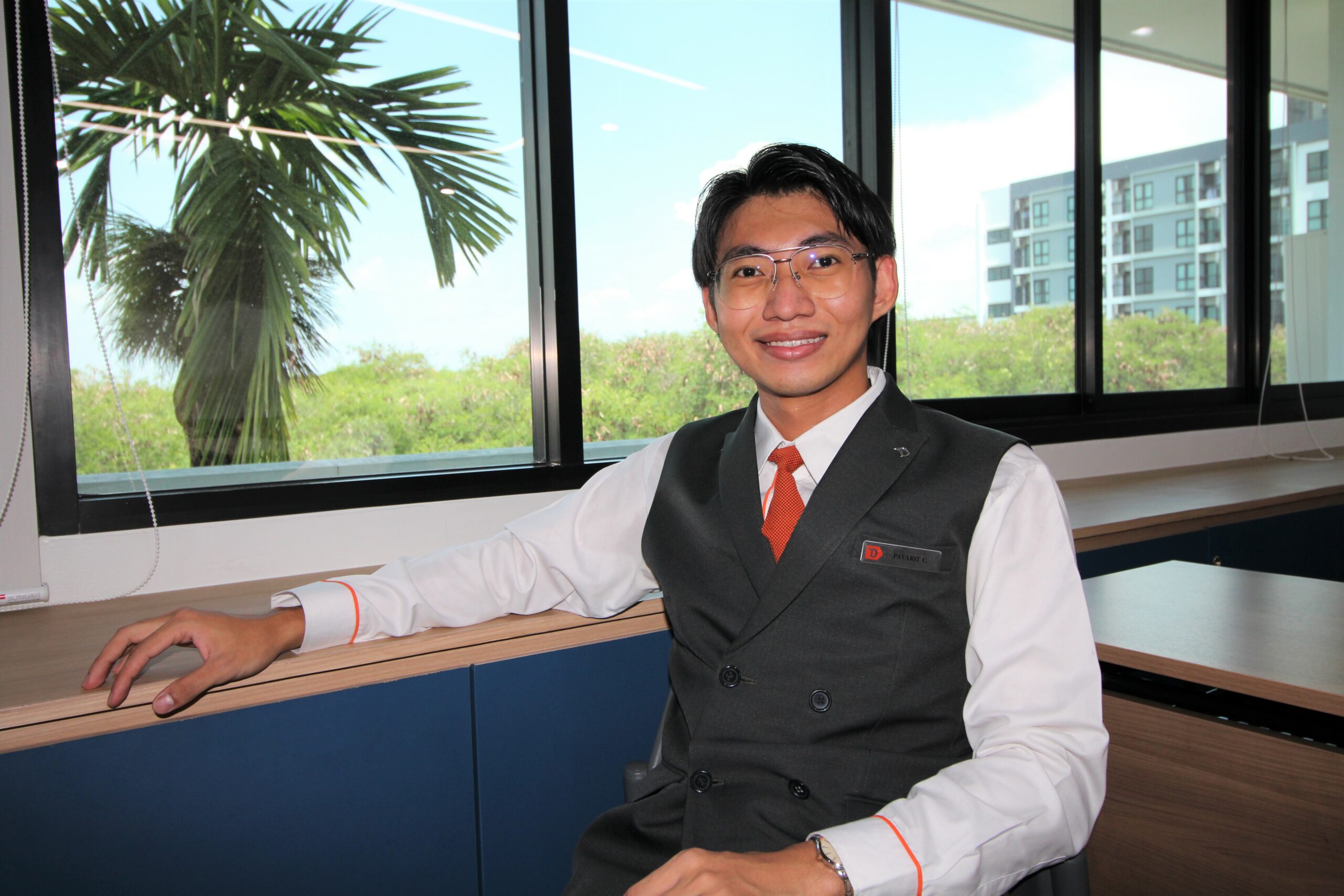 Nut's self-development trick to fast success is:
"Nobody is perfect; in fact, you can be good at something if you work hard. You can achieve anything if you practice. However, if you choose to do nothing, you will receive nothing. For the front office position, your leaders expect you to be able to work. When you are at the front desk, you must know how to handle things alone such as how to deal with different types of guests. The better you are, the more likely for you to be promoted."
Having tasted his second drink, Nut has grown to understand himself that what he loves is not a drink called "bartending" but a key ingredient in it: "customer service".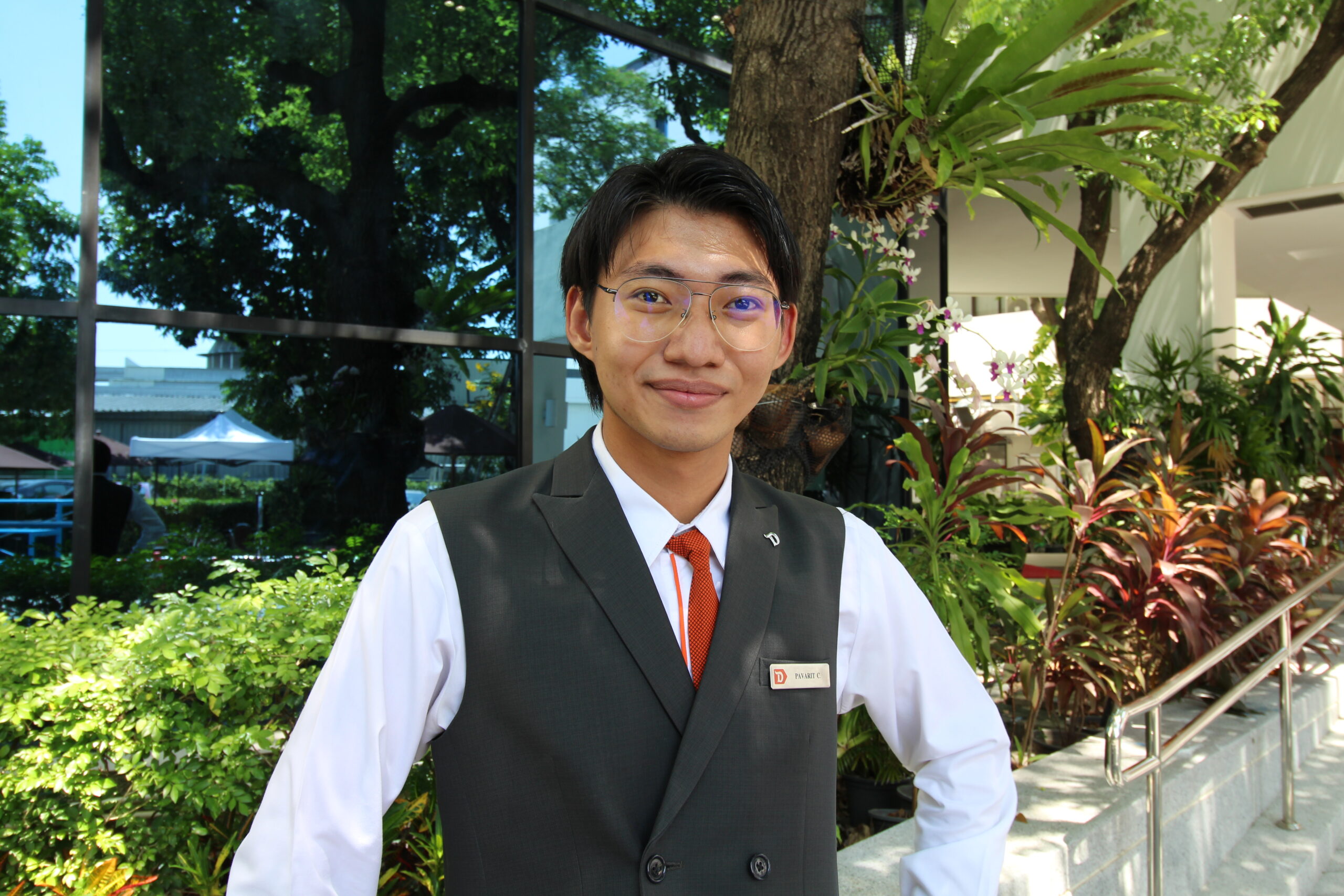 "When I joined the front office, I realized that I got a chance to meet new guests and new things every day. It was fun and challenging to solve any problems for the guests. Therefore, I did understand that bartending was my preference, but the job that really suits me was the front office. I would like to thank the college for providing me WIL since the second semester of my first year. It made me realize about my specialty as well as provided me a chance to gain experience before anybody in other institutes. I feel so confident that I have made the right decision, because I can see what I like the most is not just bartending. In fact, deep down inside, things that I like the most in customer service are talking to the guests, meeting them in person, and other tasks related to guests. I want to make them happy with smiles on their faces."
Everyone has their own reasons to pursue their goals; however, there are possibilities to be successful in every chosen path, depending on the efforts and opportunities you embrace.