In the morning of the workday, if you are traveling through Srinakarin Road heading to Bangna–Trad Road, you may see students in white or black T-shirts, trousers, and backpacks carrying large boxes around Soi Srinakarin 49. That means you are meeting culinary students of Dusit Thani College. Those large boxes store a variety of kitchen equipment, but they are inconvenient and not suitable for travel. 
"Most of the culinary students here will carry their kitchen equipment from the residence to the college and vice versa because it is required to use our own equipment to study in the classroom and practice at home. What we have to carry are not only knives, there are also spatulas, whiplashes, and other kinds of things. In fact, just knives still have different types," said Belle – Budsabakorn Suwannasit and Ida – Nusara Wanmoree, 2 alumni of Culinary Arts and Kitchen Management Program, Dusit Thani College, explaining the problems of what to carry regularly during their study. "Culinary students have trouble carrying equipment to classes. According to the information we have now, they put kitchen equipment in a box or a bag which is not convenient when in use. They have to dig into the baggage to find equipment. Moreover, they also have to carry textbooks in another bag. Therefore, we pondered why carrying so many bags instead of putting all stuff together in a bag, which is more convenient."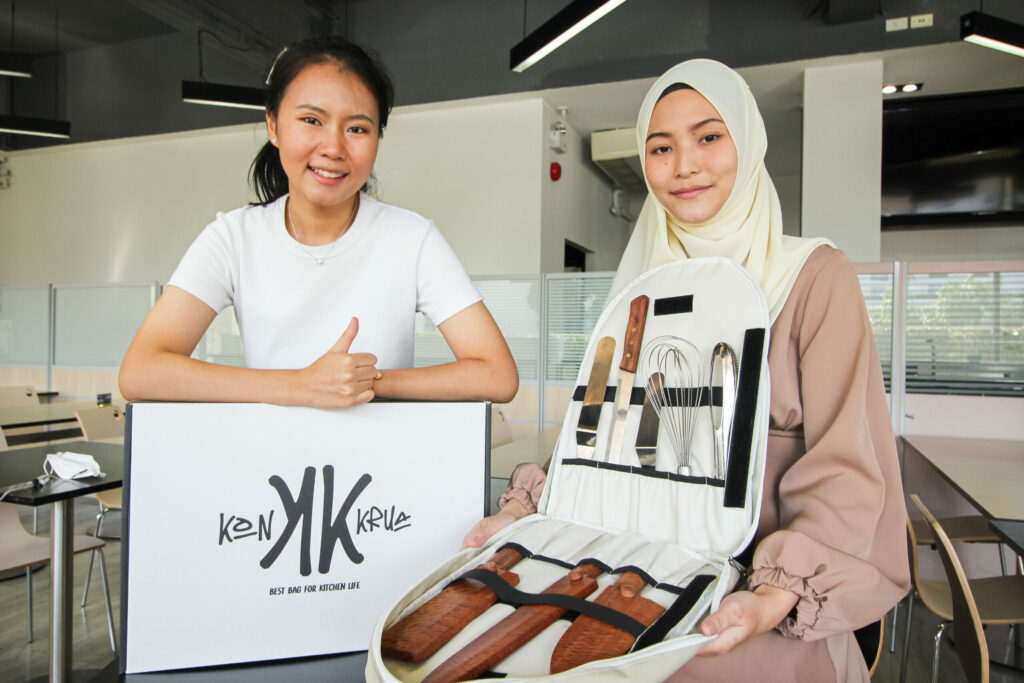 With these pain points, Belle and Ida got an idea to establish a solution that led to their business, "a kitchen bag". Currently, they are having a brand for their cute kitchen products named "Konkrua". 
Belle said "Actually, this business idea was initiated in the Strategic Management for Entrepreneur class with the assignment to find a pain point and create a problem–solving product. These pain points were proposed by Ida and became our topic for the project. After graduation, we believed this project could be interestingly practical, so we developed it until it is now. Thanks to the class for a chance to start." 
Ida added that "The lecturer also suggested that the project could be enhanced and go further, so we were inspired to carry on. We worked full–time in different places after graduation due to Covid19, but we sought time to spend developing this idea together. This is our first year that we take it seriously. We are contented that we have had positive feedbacks since the first 20 days and sold half of our stock now."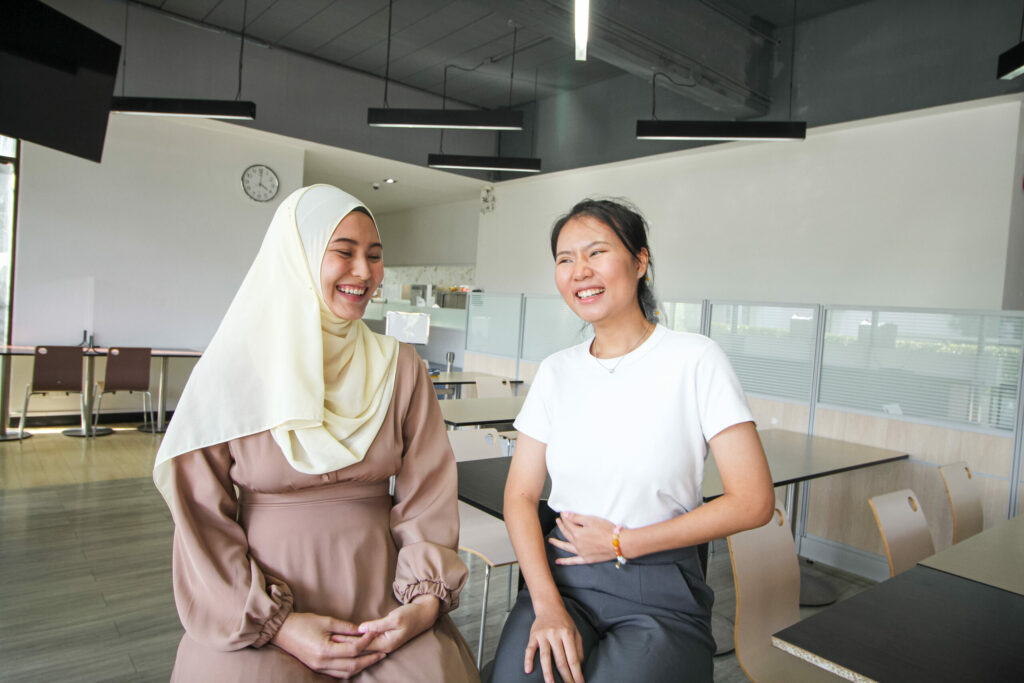 These feedbacks are a clear evidence that Konkrua meets the needs in application and design, while it may create more product values than only solving pain points. 
Belle told that "While we were on the project, we consulted a bag design specialist and he suggested to design the bag by taking how the users commute into account. At first, the bag wasn't designed in this shape. It was like a cross bag in the form of big square box. After we got the advice, we redesigned it into the current version that we think it provides the best solution right now." 
Ida added that "I am one of those who live far from the college. Back then, I had to ride a motorcycle or took a bus to the college. I carried a shoulder bag with textbooks inside and a box of kitchen equipment. That was a lot. That's why our product is designed to be able to pack textbooks and kitchen equipment in one place. It is also designed as a backpack to help save the balance of users' body because if we handle heavy objects on one side for a long time, it will cause our bodies to lose balance. The backpack will help distributing weight equally on both shoulders."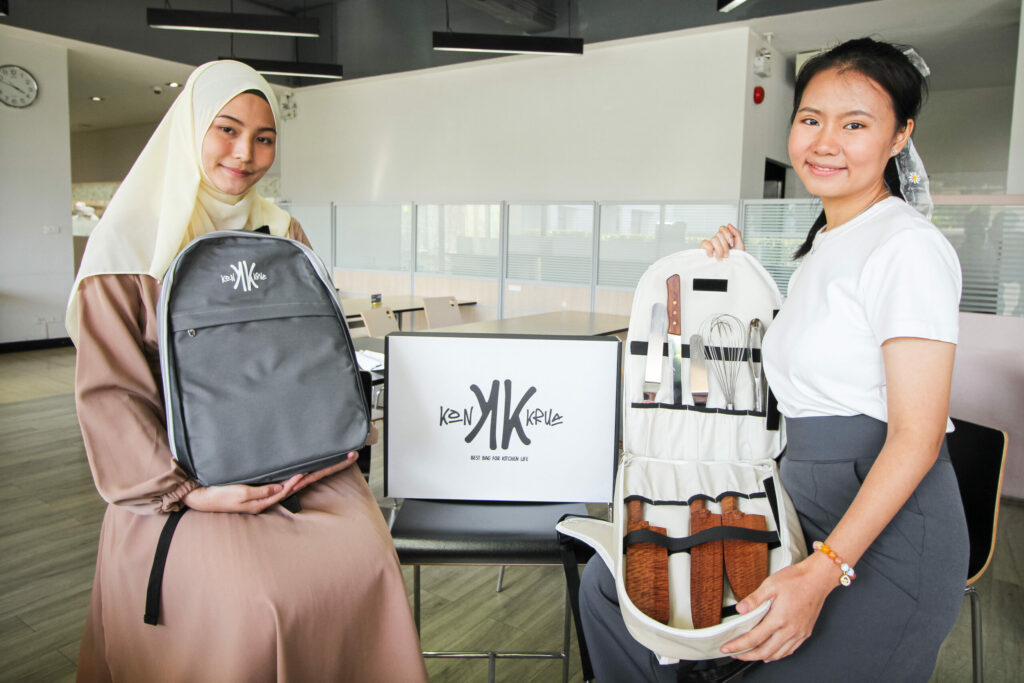 The feedbacks are not derived from only culinary students, they are also from the professional chefs as the context of application is similar and Konkrua's product can be customized by usage. 
Ida said "Actually, I and Belle are working in different settings. Belle prefers working in a restaurant and I choose to work more in a hotel's kitchen. We found different pain points in our works that could be beneficial to our product development. For example, there are full sets of kitchen equipment in a hotel's kitchen, but they are still not enough due to a lot of workers and clear-cut separation for usage in each section like hot kitchen, cold kitchen, and etc. Therefore, we have to bring our own stuff to the work. We need a bag to keep away from chipping our knives and from losing them. I adopted this pain point to the product improvement by adding hook and loop fasteners to fasten the knives." 
Belle added that "In a restaurant, there are sections as well but it is more flexible. We can give cross-section assistance, so the equipment can be used between sections. However, some restaurants do not have a complete set of equipment like in hotels, so most chefs choose to bring their own equipment to the work. It is especially knives as each person feels handy with different types of knives. As a result, our bag is designed to have many compartments with the main one for knives and other necessary stuff. For the occasionally used equipment, its compartments are designed to be removable with hook and loop fasteners in order to lighten the weight and easily expand when in use."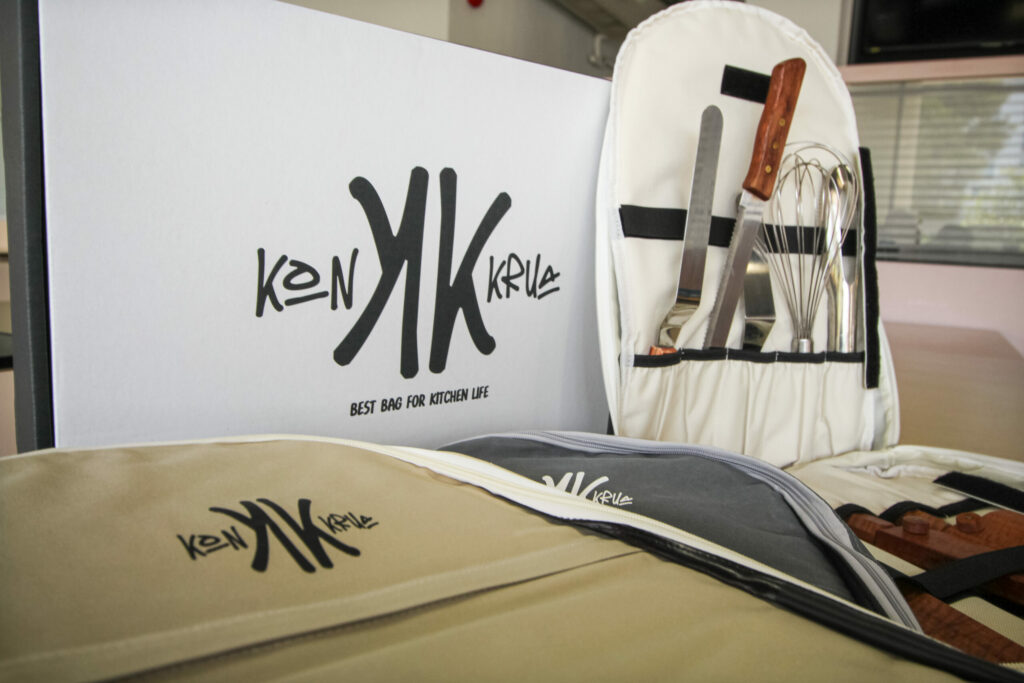 With these small college–life pain points that still happen today, Belle and Ida spend this opportunity during Covid19 diverging from their dream job as a chef to relieve these pains precisely. However, Konkrua's target groups are classified as a niche market, a market with specific customer groups and specific usage. Its popularity depends really much on these key factors: "information" and "connection".  
Ida shared that "The good point of niche market is we know who our customers are and what they really need. We are the ones who truly faced these pain points. We also asked others if they experienced the same or other problems. In our Business Research Methodology class, we did data collection on this topic as well. That's how we concluded that customers need this solution. We studied this class along with Strategic Management for Entrepreneur class, so they gave us advantages to develop our business in both customer insights and product design at the time we were able to fail." 
Belle added that "Thanks to Dusit Thani College, we have got a strong connection. One of the reasons that we gain many positive feedbacks and opportunities is we are supported by our lecturers, seniors, and juniors at Dusit Thani College. After our graduation, the lecturers are still very supportive in giving advice, opportunities, and reviews on their social media. The college also invited us to collaborate for new products to be sold in the college's D Shop, which is a very good opportunity for us. After our 2 years of trials and errors, we are proud of ourselves that our product receives positive responses."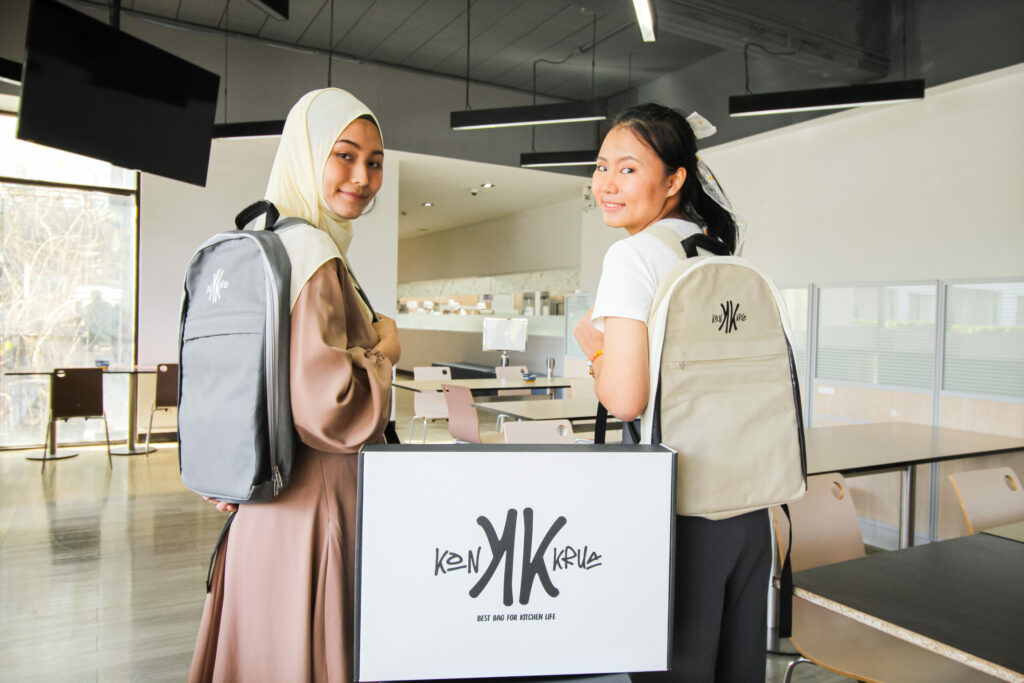 Opportunities and a pair of glasses to see them are not far from anyone. Just start observing around your daily life and find the answer or something to fill in that empty space. In the future, if you are traveling through Srinakarin Road heading to Bangna–Trad Road, you may see students in white or black T-shirts, trousers, and Konkrua's backpacks instead. 
For those who are interested in Konkrua, please contact https://www.facebook.com/konkruaofficial/