For those who are curious "What does the hotel management study about?" or "What could hotel management students do after graduating?", you are having the same questions as Bamboo – Patcharapol Danngarmwasin right before he joined Hotel Management Program at Dusit Thani College. At that time, he didn't have a passion to study hotel management, but languages.
"I studied in English major in high school. I like English and I want to work in the fields that use this language", said Bamboo.  
"At first, I was thinking about being an air steward because it guarantees the usage of English in daily life, so I aimed for studying aviation business management. However, I had a chance to talk to my mother's friend who used to work in a hotel. She recommended me to study hotel management as I can choose broader areas of work after graduation. The foundation of services learned in this program can be used in airlines as well as in hotels and cruises in case I change my plan in the future. Studying deeply about aviation could possibly limit the fields of work. Therefore, I looked up more information about hotel schools and found Dusit Thani College. I had thought hotel management would focus only on food serving and housekeeping, but the course outline made me realize that the program here does not only educate operational skills but also management skills as it is a BBA program. The more I was exposed to job reviews and additional incomes from service charges, the more I was interested in this field. Eventually, I decided to study here at least for a BBA certificate which gives me choices in the future to deepen hotel skills or generalize management skills." 
The first step of Bamboo into an international environment was during his internship program at so-called one of the most luxurious hotels in Bangkok.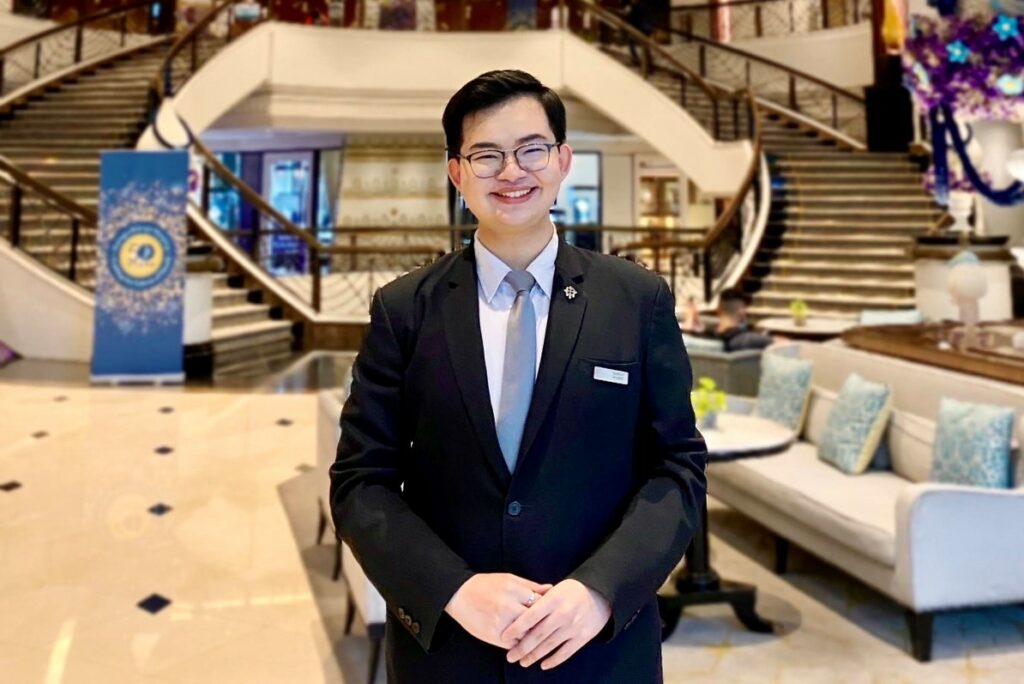 "I was an intern at The Athenee Hotel, a Luxury Collection Hotel, Bangkok which previously was Plaza Athenee Hotel. It is a Distinctive Luxury brand under the chain of Marriott. As the property is located in Bangkok's central business district that is filled with major corporations and important government buildings including the embassies, the guests are more businesspeople and the ambassadors. The General Manager here Ms. Choo Leng Goh and many of my colleagues are also foreigners from different countries. This got me used to a multicultural environment. To be honest, I was reluctant where to go for an internship as it was just a start of my sophomore life (Dusit Thani College starts bringing the students to an internship program since the second year) and I didn't know many hotels. I listed 4-5 hotels that I knew to make a decision and I chose The Athenee because I just wanted to (laugh). I was trained in 2 departments which were Front office and Food & Beverage at French restaurant The Allium Bangkok. I think being trained in more than one department benefited me a lot. I talked to my intern colleagues from other universities and they said they had only one chance to choose the department to go for an internship which might not be their real interests after all. At Dusit Thani College, the students will join hands-on training at least two times and rotate the department. This helps me gain various experience and see myself more clearly."  
Here at this place, Bamboo practiced high level of services and learned exceptionally useful tips while being given special experience. 
"At the time I trained at The Allium Bangkok, I had learned much about the full operation of guest welcoming, from reserving tables, greeting, leading guests to the table, facilitating guests, unfolding napkins, asking for orders, pouring water, serving wine and food, recommending menus to boosting sales and billing. All processes have their own standards and procedures. From this experience, I realized that I like sales boosting as I enjoy talking to guests and offering choices of products that I think they would suit their liking. I and my team once increased sales over a hundred thousand Baht. I feel grateful that my team taught everything I needed and offered opportunities to do something beyond what I thought a trainee could have been given a chance to do. I also had a chance to take part in creating contents to be published on The Allium Bangkok's social media. The team from Marketing Communication Department saw me enjoying photography, so they allowed me to help in partially taking care the restaurant's social media accounts and create contents on them. I would like to thank all of them for giving me this opportunity."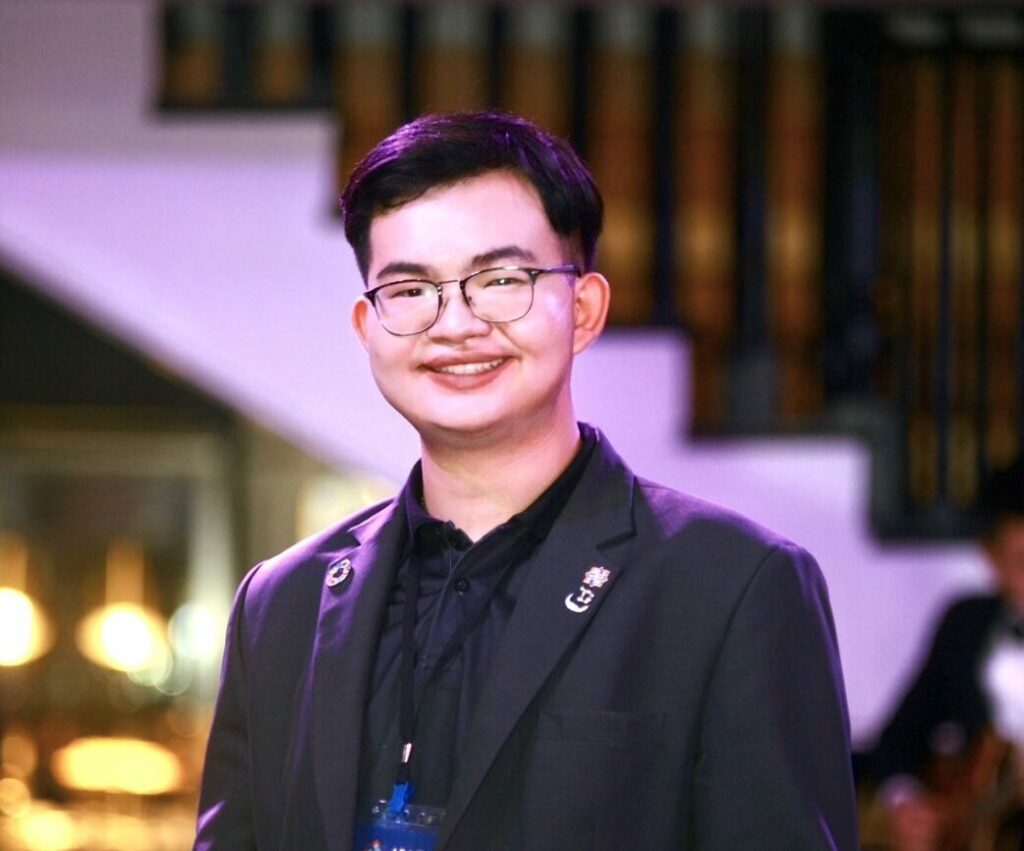 With this experience, Bamboo has become an outstanding candidate among the applications for voluntary liaisons in Thailand's APEC summit. 
"Ajarn JJ (Ajarn Jongjit Janjam, Program Manager and instructor of Hotel Management Program at Dusit Thani College) forwarded me the news about this applicationof the event was a week before my exam and the condition was to participate in the event for 4 consecutive days. That's why I had decided not to go for it. Later, Ajarn Aod (Ajarn Tosaporn Sukha, Program Director and instructor of Hotel Management Program at Dusit Thani College) called me and explained how great this opportunity would be. He also allowed me to take leaves, so I applied for this position at last. The interview day was unexpectedly during my mid-term exam period; however, I, fortunately, was free on that day unless I would be disqualified. I worked really hard on understanding what a liaison is and what it takes to become one. It is a coordination job with support provision to the event's partakers, which I think it matched my background. At the interview, I didn't know anyone as I was the only one from Dusit Thani College applying for this position. I felt really stressed as I wanted this job badly while they picked up only 25 out of over 100 applicants. There were many of the candidates who spoke 3 languages like native tongues. Some could speak 6, but I could do only Thai and English. The interview was shocking as well (laugh) as it was a one-on-one interview with the Director of The Joint Standing Committee on Commerce, Industry and Banking (JSCCIB) who took care of the overall APEC summit and ABAC (APEC Business Advisory Council). He asked about my experience, skills, and the reason why I wanted to be a liaison. I told him what I had done before and presented that I desired to be the representative of Thai Hospitality in taking care of foreign leaders. Regarding my internship program and education in Hotel Management at Dusit Thani College which is a distinguished brand in bringing Thainess to the world, I would like to offer the unique experience of Thainess to the leaders. After the interview, I got a call from the ABAC organizer that I was selected. It was overjoyed to be a part of them. I think they chose me partly because I was an intern at The Athenee Hotel where all leaders were accommodated. As I was the hotel's alumnus and possessed the presentable communication skillsto support administration as well as coordination between the hotel, ABAC secretariat, ABAC Thailand, and other participating members."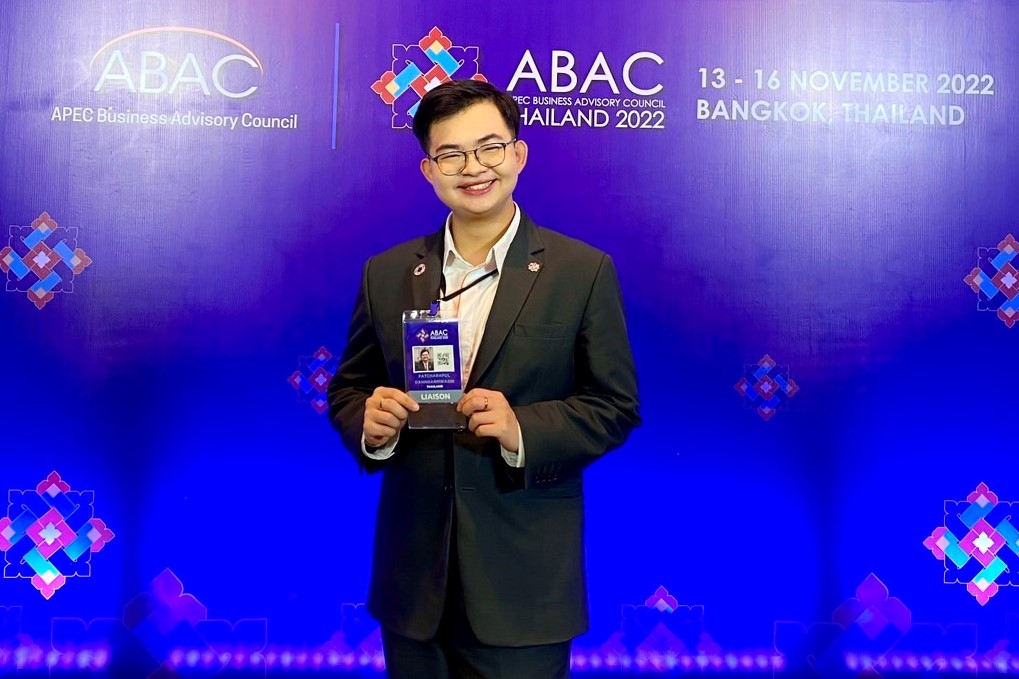 From the start of passion in English to opportunities in an international level, Bamboo succeeded in his journey partly with the supports from Dusit Thani College. 
"I received compliments from the members and the working team that I was very caring. This was because I approached the guests and facilitated them with service mind which was taught since the day I entered the college. We were instilled the Dusit's philosophy of care, commit, and can-do as they are the key qualifications for people in hospitality industry, especially being observant and caring. I also used hotel management knowledge a lot at the summit, from management skills to making a name list following global standards. The hotel management techniques can be applied to all aspects of hospitality career. Another interesting point that I learned is grooming. We were taught to keep our looks formal and professional as well as our personality and mindset. Apart from knowledge, Dusit Thani College has given me various international opportunities since I was a freshman. I proudly had a chance to give a speech on the stage of Thailand Tourism Forum and gained positive feedbacks from the attendees I was proud that I could impress them with my story. I also joined South East Asia Hotel Investors' Summit as a staff. It was a great feeling that I was involved in international events. Thanks to the connections and the great creditability of DTC that my instructors have had, I could approach to many different experiences and opportunities as well as good places to go for internships." 
From a variety of international experiences, Bamboo can obviously see his goal and next steps.  
"My dream career has shifted from airline business to sales and marketing in hotels. I wish that in 10-15 years after graduation, I could become a Director of Sales and General Manager of a luxury hotel after 25 years with the unfaded passion in the industry. I like the essence of hotel industry which is an opportunity to create unforgettable experiences for guests from places all over the world. They visit hotels in each country to indulge in unique experiences as well as exchange cultures. For me, this essence has a higher value than how much I earn from the job. The secret behind these clear milestones is that I have tried jobs and internships in many different places and responsibilities. I have learned that what the culture of this industry is. It needs experiences and the character of being proactive in order to grow in this field. I have seen the career paths of many successful people as well. Ms. Choo Leng Goh is one of my inspirations and role models in this industry. She once told me the adventurous stories of her work life since the start as a Sales Coordinator in a hotel until her achievement of being the General Manager for one of the most recognized 5-star hotels in Asia. I like her working style of aiming at rewarding results and setting clear goals, so I take her as my role model. Her inspirational pathway also makes me believe that everything is possible because what you need is already within you."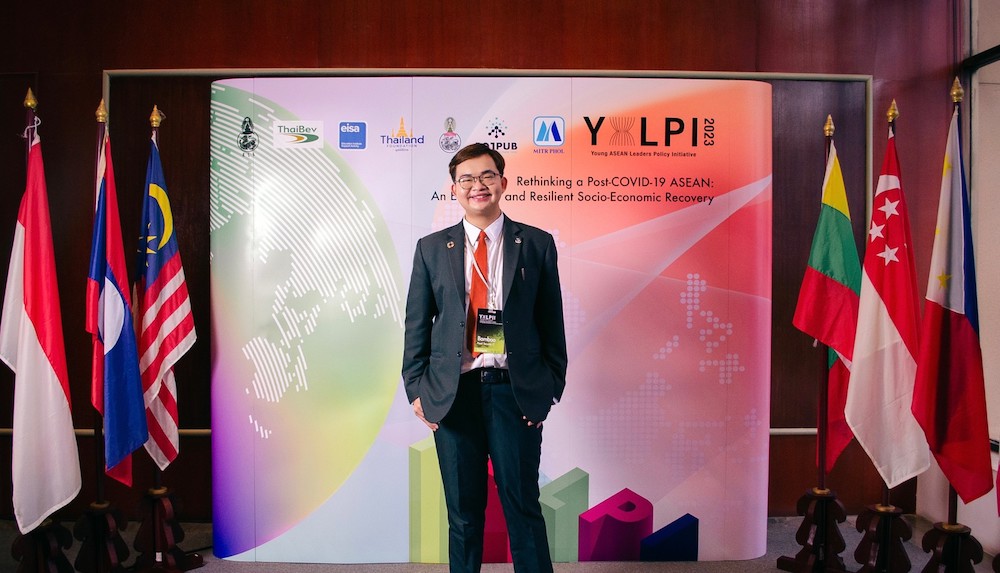 For those who plan to set their lives a goal, here are some suggestions from Bamboo to create the best results. 
"I recommend to find role models in the same industry who work in your desired positions. Learn from those people how they reach that points and what they have been through. Then, use the inspiring information to curate your own path for your desired future. Explore what role would be a good start for your career and how long it would take for you to grow further towards your goal. It is also important to specify which position you want to step up to. Having clear goals is good; however, I don't recommend to put much pressure on yourself. This is to help you craft the strategy and your to-achieve in the everyday work instead of merely fulfilling the basic requirements without a distinct objective." 
As you can see, studying hotel management does not only focus on operational or managerial tasks in hotels, but it also instills service mind and customer satisfaction mindset to create the best experience for all guests which could bring that person to success in as many pathways as one wishes.