Whether on relaxed or rushed days, most people would want to cook simple dishes by themselves without any complicated preparation. Dusit Thani knows that, so we have complied 10 recommended savory and dessert recipes that are easy to cook with very little ingredients but still tasty for everyone and suitable for any occasion.
Let's take a look at these 10 selected dishes. If you are looking for a new idea for a recipe, don't miss this list!
Minced Pork Wrapped in Chinese Cabbage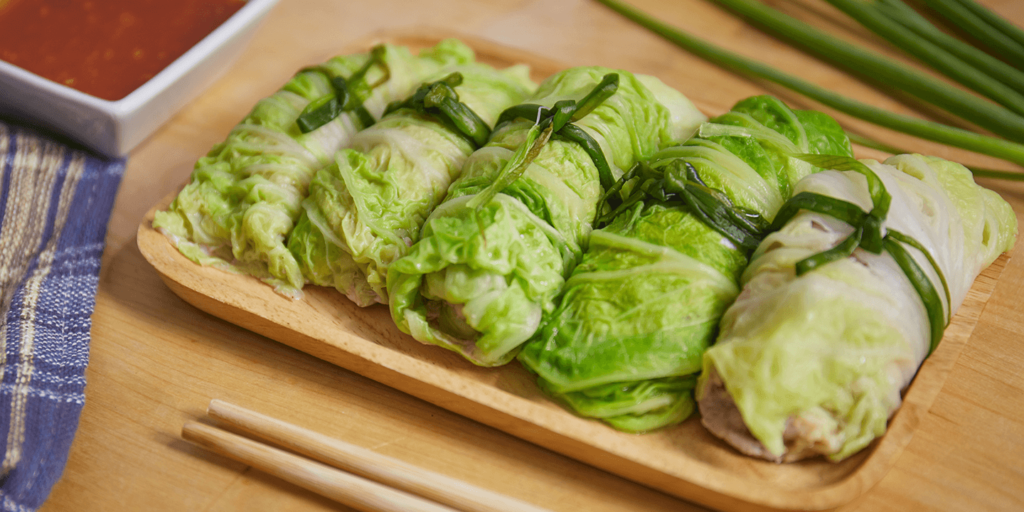 Source: cpbrandsite.com
With just some minced pork/chicken, a few Chineses cabbages, a little more flavoring, we can create this delicious dish.
Ingredients: garlic, pepper, chicken thigh or pork, soy sauce, oyster sauce, sugar (little), Chinese cabbage, and water (for soaking and soft boiling)
Directions:
Pound garlic and pepper thoroughly and set aside.
Chop the chicken or pork into small pieces. Then, marinate with garlic, pepper, soy sauce, oyster sauce and just a little sugar. Leave for at least 30 minutes (or even leave it overnight in the fridge).
Blanch the Chinese cabbage in boiling water and then soak it in cold water. Leave to drain. Cut off the stalk, leave only the leaves.
Place the minced chicken or minced pork on the Chinese cabbage leaves and wrap. After that, put the wraps in a steaming set and steam with boiling water for 5 minutes or until done.
Rice Omelet (Sun Omelet)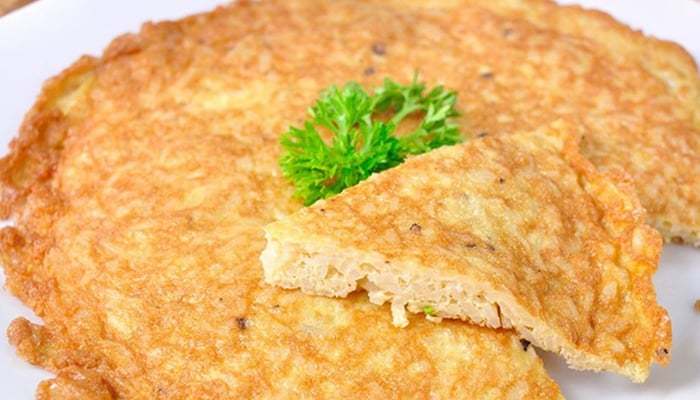 Source: parpaikin.com
Eggs are considered one of the simplest ingredients, paring it with some vegetables turns it into a new recipe. "Sun omelet" is also one of the royal dishes of King Rama IX.
Ingredients: 2 eggs, 1 tablespoon of seasoning sauce, and 1 bowl of rice
Directions:
Break the eggs into a bowl, season with sauce, and stir
Add steamed rice and mix it well
Set the pan, heat oil. Then, pour in the eggs and fry until cooked on both sides
Deep Fried Chicken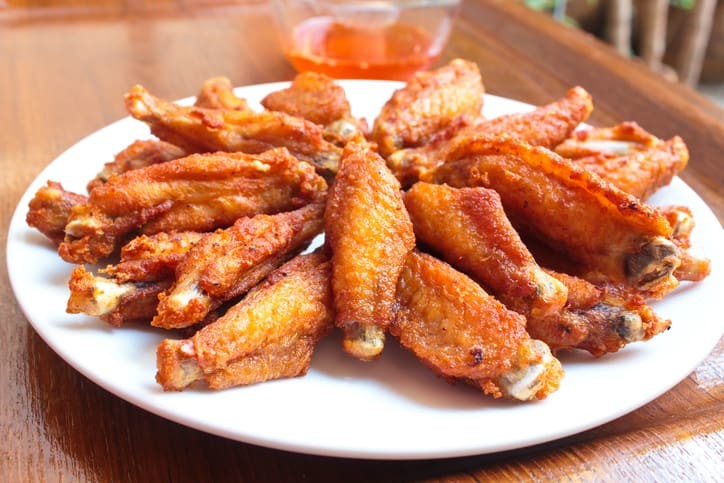 Source: food.mthai.com
If you aren't sure what to have during your free time, try this dish and it may be your new favorite one. This dish is easy to make on your own, with family or with friends, and could even strengthen those relationships through its delicious flavor!
Ingredients: chicken thigh, salt, seasoning sauce, seasoning powder, fried crispy flour
Directions:
Cover chicken thigh with salt, seasoning sauce, seasoning powder, and fried crispy flour generously.
Let marinate for 30 minutes, then deep fry in boiling oil.
Fry until golden brown, then drain the oil. Finally, put it in a nice plate and it is ready to serve.
Stir Fried Pork and Ginger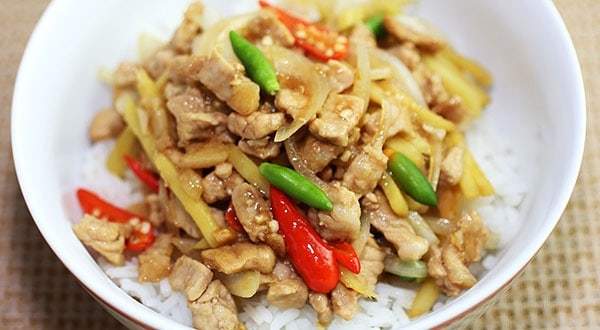 For anyone who likes hot and spicy food, this is a must try dish! It's very easy to make and captures that Thai spice style in just a few minutes.
Ingredients: pork (diced), chili, striped onion, finely julienned ginger, sugar, fish sauce, oyster sauce, soy sauce, black soy sauce, seasoning powder, vegetable oil, and chopped garlic
Directions:
Heat a pan and add vegetable oil, when hot, add the garlic and fry until fragrant.
Add the prepared pork and stir until the pork is cooked.
Season with seasonings and stir well.
Add the ginger, onion and fresh chilli, stir together for 1 minute. Put it on a plate and serve with hot steamed rice.
Grilled Chicken Breast Salad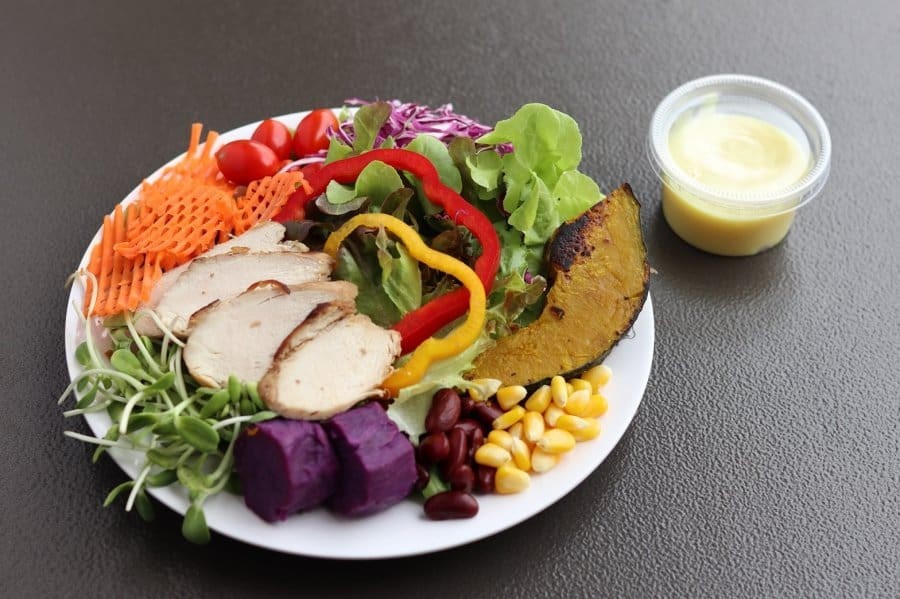 Source: thecrystal.co.th
This dish is suitable for the health conscious among us. Apart from being easy to make and delicious, it also contains low calories. Additionally, we add flavor to be a bit spicy and a little sour, so that it can be eaten many times before you get bored of it.
Ingredients: chicken breast, five vegetables of your liking, chili, honey, lime, salt, and black pepper
Directions:
Marinate the chicken with salt and black pepper.
Grill the chicken until it is cooked using medium-low heat.
Mix your five vegetables with the grilled chicken and season with chili, honey, and lime juice in a bowl. It's ready to serve and impress.
Steamed Egg with Minced Pork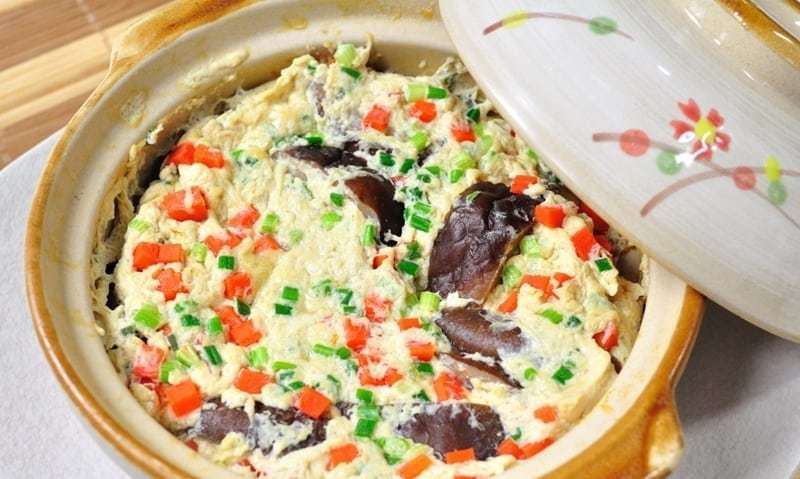 Source: amazonaws.com
For this dish we can use a microwave, making this dish very popular among dorm dwellers or those who want a quick meal. Moreover, steamed egg is also a top dish for health lovers as well.
Ingredients: eggs, minced pork, salt, pepper, water, and sliced spring onion
Directions:
Separate the minced pork into two parts. One part for garnishing and the other to put in the steamed egg.
Add a little water into the portion of minced pork for garnishing and put it in the microwave, adjusted to medium-high for 2 minutes for all the pork to be cooked through.
Add a little water into minced pork that will be put in the egg and put that in the microwave. Adjust it to medium-high for just 1 minute to be partially cooked.
Crack the eggs and add 1/4 cup of water, then season with salt, soy sauce and pepper. Stir until mixed, then add the partially cooked minced pork into the egg as well.
Wrap with plastic wrap, make 3-4 holes and put it in the microwave. Adjust it to medium low for 7 minutes, then dress with chopped spring onions and remaining portion of cooked pork.
Microwave Fried Rice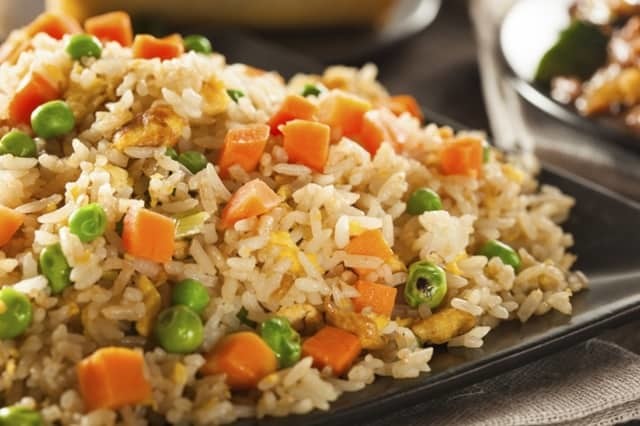 Source: Senesouk.com
Here's another dish that can easily be made with only a microwave. This dish is easy for dorm dwellers, salarymen who don't want to buy dishes, and those who cannot cook. After trying this recipe you will know that cooking food is not as complicated as you thought!
Ingredients: steamed rice, eggs, frozen vegetables, sausage, oil, soy sauce, fish sauce, oyster sauce, sugar, pepper, and sliced spring onion
Directions:
Mix rice with a little oil and the eggs thoroughly. Put in the microwave at the highest heat for 1 minute.
Add frozen vegetables of various colors, the sausage, or the other meats together and put it in the microwave at the highest heat for another minute.
Use another bowl to break the eggs into. Stir the egg slightly, do not let the egg whites and yolks mix too well. Put it in the microwave, turn it to medium heat for 1.30 minutes then remove and grind into small pieces.
Take the cooked rice and season with soy sauce, fish sauce, oyster sauce and sugar. Mash thoroughly and sprinkle with egg, then put in the microwave at the highest heat for 1 minute. (If the rice is still wet, put it back in the microwave another 1-2 times).
Garnish with chopped spring onion and pepper.
Spicy Pork Salad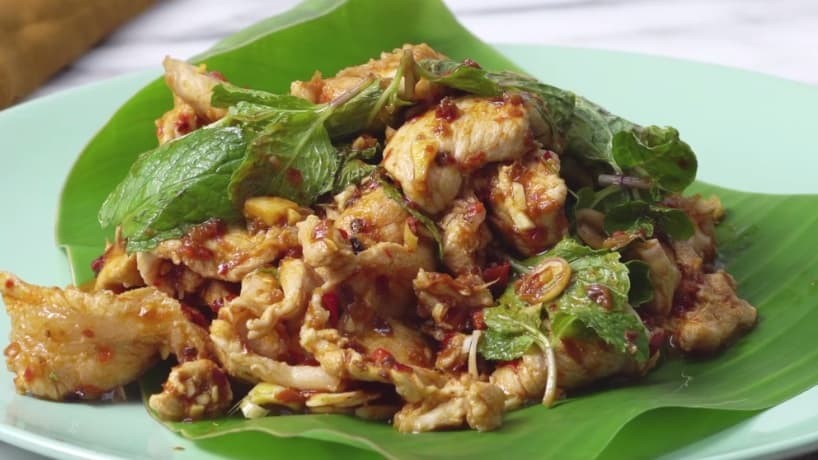 Source: food.mthai.com
Do you love spicy food? This recipe is for you! This is a delicious pork dish eaten with rice or as a side dish. The taste is absolutely delicious as the spice is complemented with lime and mint.
Ingredients: sliced pork, lime juice, fish sauce, sugar, chili paste, chopped garlic, chopped chili, sliced lemongrass, sliced kaffir lime leaves, mint leaves
Directions:
Blanching the pork in boiling water, then let it rest for a while.
Cook the salad sauce by adding lemon juice, fish sauce, sugar and chili paste, stir until the chili paste is dissolved. Then add the garlic and chopped chilies.
Add the boiled pork followed by lemongrass, finally the kaffir lime leaves and mint leaves at the end.
That's the last of the savory recipes, but if you're still not full, we still have two dessert recipes to try.
Red Bean Brownie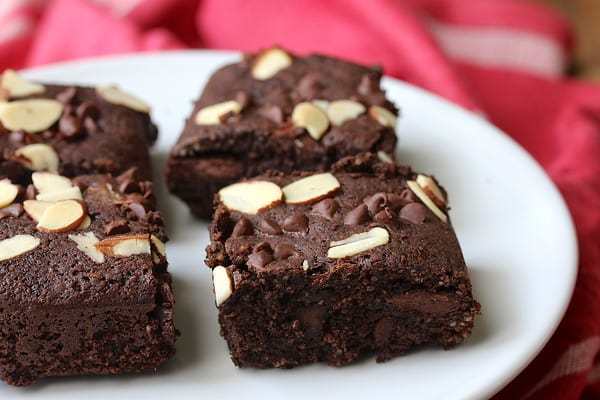 Source: parade.com
A healthy dessert is also possible. This dish is guaranteed to satisfy the sweet lovers who want to take care of their health too. In addition, the directions are very simple and require only a few steps.
Ingredients: 1+1/2 cups of red beans, 1 cup of mashed oats, 1/3 cup of honey, 1/4 cup of vegetable oil, 1 teaspoon of baking powder, 2 teaspoons of vanilla extract, 4 packs of chocolate malt powder, 1/2 cup of unsweetened milk, red beans and chocolate chips for garnishing.
Directions:
Put all ingredients in the blender and blend thoroughly.
Pour the mixture into a tray and spread evenly to the edge. Then top up with red beans and chocolate chips and bake in the oven using 180 degree heat for 30 minutes.
When the brownies are perfectly baked. Take them out, cut into pieces and divide into cubes.
Apple Cake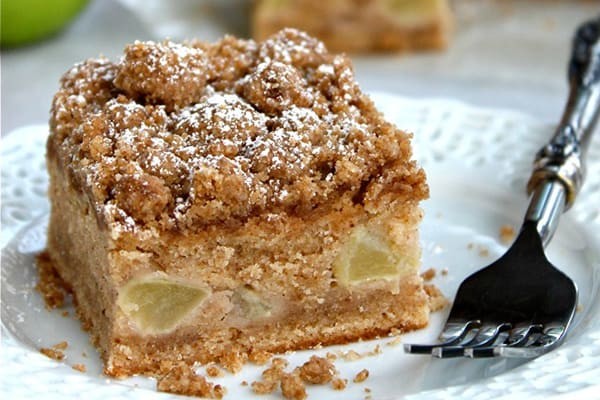 Source: boulela.com
Want to make desserts but don't have an oven? Not a problem, because this apple cake recipe is easily made with just the microwave and in only 3 minutes.
Ingredients: 8 tablespoons of all purpose flour, 8 tablespoons of sugar, 1 teaspoon of baking powder, 2 duck eggs, 1 teaspoon of cinnamon powder, and 1 apple
Directions:
Mix the all purpose flour, sugar, and baking powder together.
Crack the eggs into the bowl and stir them.
Add melted butter and mix well.
Add the prepared apple and mix well.
Scoop up the mixture into 1/2 cup glass, then put it in the microwave with the highest heat for 3 minutes. Remove from the microwave and serve.
Delicious dishes don't always have to be complicated. We have selected these 10 dishes, as part of this easy cooking menu. These recipes are easily done any day, whether on the days you are in a rush and have limited time or on casual days with the family.
Want to learn how to cook? Dusit Thani College has a range of culinary courses for you to learn how to cook for home and professionally. Suitable for everyone.